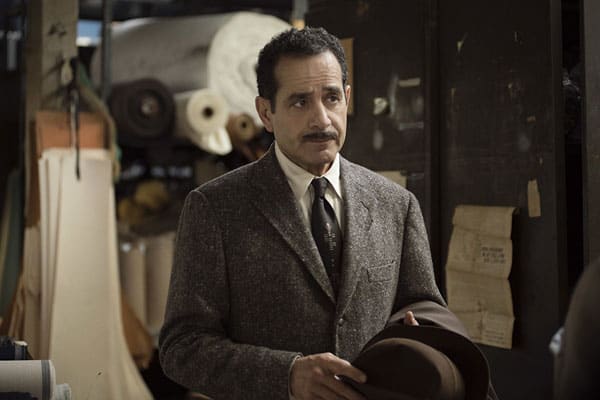 Tony Shalhoub has spent much of his career as an actor playing a variety of character roles in both comedic and dramatic projects. Yet even as a student at Yale School of Drama, Shalhoub didn't believe that acting could be a serious career path for him. In an appearance on NPR's Fresh Air, the recent Tony Award winner (The Band's Visit) spoke about the insecurities felt by actors and what convinced him that acting could be a career.
When asked by the interviewer when he began thinking of acting as a career, Shalhoub admits that it was a long time before he thought he could make a living as an actor.
I think that started to – it started to become more real when I was at the drama school, when I was at Yale. You know, in college, I was a theater major and all that, but it didn't seem so plausible. I mean, it seemed more likely that as much as I liked it, I didn't know that a viable career was possible. So I imagine maybe I would become a teacher or something like that. Then at the drama school, it was a conservatory situation. So the students were at the school, were being fed into productions at the Yale Rep, which was a professional company. People were coming up from New York – directors, writers, actors – and from other places.

And so I was really rubbing elbows with people who were doing it for real. And that's when I began to believe that it was viable. And – but at that time to be totally honest because we were being trained for the theater, I imagined that I would have a life in the theater. And that was – that seemed fantastic to me if it was – you know, if it was doable. You know, I wasn't really kind of setting my sights on film and television because that wasn't the focus of the program.
So why didn't Shalhoub think that he could become successful as an actor in film or television? He admits that he just didn't think he was good enough. He explains, "We all understood that there are a lot of people trying to do it and very few roles and you have to be – you know, we're not all Meryl Streep. I mean, come on. She's amazing. And I mean, some of these – you know, we – I guess there was a certain sense of, you know, insecurity and uncertainty about how possible that would be."
Of course, Shalhoub sees a certain type of insecurity as something shared by most actors. He says, "I mean, in the sense that we all – all actors – I think most actors do. I mean, not insecure. I mean, you know, in the sense that you question your worth and you always feel like every job is you're – going to be your last job. And I'm not alone in that. I mean, you could talk to any actor and I'm sure they'd tell you this – that same thing."