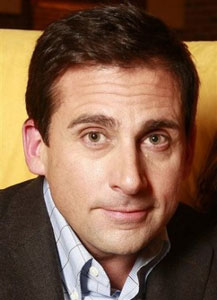 Crazy, Stupid, Love star Steve Carell opened up about his leading role in the upcoming flick and how his big-screen stardom has surpassed his initial expectations.
"I always thought I'd be a quirky character actor or I'd be the offbeat secondary supporting character," the 49-year-old told the paper's Bryan Alexander.
Over the past half-decade or so, Carell has become a consistent box-office draw with hits like The 40-Year-Old Virgin, Dan in Real Life and Date Night. As the lead in his latest romantic comedy, the former star of NBC's The Office has certainly carved out a niche for himself much bigger than that of a quirky supporting character.
"It's just another kind of character to play," explained the very versatile Carell, who's played everything from suicidal scholar to blockheaded TV weatherman over the course of his film career. "It's just another gear."