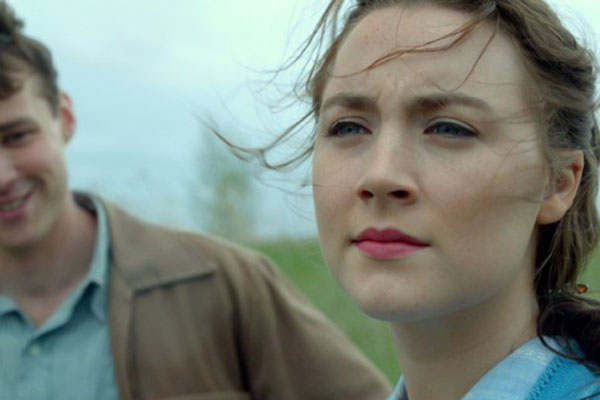 "I literally have never, ever, done a professional play before." – Saoirse Ronan
2016 is shaping up to a major year for Saoirse Ronan. She received her first nomination for the Academy Award for Best Actress for her role in Brooklyn (her second nomination overall after a Supporting Actress nomination for her breakthrough role in 2007's Atonement). She is also making her Broadway debut in The Crucible, which begins previews on February 29 at the Walter Kerr Theatre. Ronan has spent a lot of time in New York recently — parts of Brooklyn were filmed there, and her next film, The Seagull, was also shot in New York. In fact, what few people know about Ronan is that she was born in the Bronx to Irish immigrant parents, who moved back to Ireland when she was three (her father Paul Anthony Ronan is also an actor). In an interview with New York Magazine, Ronan talks about returning to the city of her birth and what it's like making her professional stage debut at the pinnacle of theater in the United States.
Ronan has a very different impression of New York compared to Los Angeles. She explains, "When you go to L.A., everyone has an idea in their head of what L.A. is or what Hollywood is, and it's just not like that at all — it's just a big desert where everything's spread out. I feel like you come to New York and it just exceeds your expectations. Every now and again, you just go, 'I'm in New York. This is fuckin' great.'"
Despite her excitement in being back in New York and her eagerness to check Broadway off her "to do" list, Ronan admits that she is untrained for being on a stage. She reveals:
I literally have never, ever, done a professional play before. I had done school plays when I was 5 to 12 — a tree, an evil queen; I think I played a bumblebee. But apart from that [no] theater at all. I was always cautious about taking on a play when I was younger. I knew from my dad's own experience that you really need stamina. He never went to school for it. Mom and he just came over to work — a lot of that generation chose work over college because it was kind of the more realistic route at the time. And Mom became a nanny and my dad started working in a bar. And a lot of Irish actors would go in and they got to know him, and one of them eventually asked him to audition for a play. He just learned on the job. I think it was the best way for both of us — it shaped how we work. So I was aware that to take on something like that when you were just a kid, to me it would've been just a bit presumptuous. But I've always said that when I was about 21, that's when I'd do a play.

I only just started rehearsals. You feel everything. Your brain just doesn't stop. It's different from film — usually my preparation is learning my lines and then going on set and trying different things out, and hopefully you capture it and then it's done, out of your hands. Whereas with a play, it's constantly evolving. There's no real respite. You're thinking of every possible [meaning] one line could have.
One thing that Ronan is grateful for is that although she was a child actress she didn't grow up in the Los Angeles scene, which she feels has given her a better sense of choosing her projects as opposed to feeling pressured to work. She explains, "It's funny, I didn't really feel [some of the pressures of Hollywood] when I was younger. I feel it a bit now, and I could see a change when Hanna came out, because it was the first sort of commercial success I'd had, apart from Atonement, and I was very young then — a lot of that went over my head. Part of it was that I'd grown up outside L.A., so I wasn't exposed to the competitive side of that world, where you feel like you have to do a thousand and one things in order to keep up with everyone else. I didn't have that pressure of feeling like I needed to be exposed more or do a big studio film in order to get more work. It was down to the type of work I wanted to do. At the end of the day, it's sort of like your portfolio. A piece of work is something you put time and hard work into, and you want to be able to stand next to it and say you really believed in it."