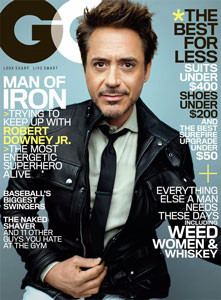 In his in-depth interview with Robert Downey, Jr. for GQ, correspondent Chris Heath ends with asking Downey if he aspires to win an Oscar.  Naturally, the twice-nominated Downey responds with the familiar "it doesn't really matter to me" answer we're used to hearing from actors.
However, his reasons for that conclusion are a bit different from the norm — he explains he doesn't care much about it because he's convinced he'll eventually win one… and if not, he'll simply get awarded one after a long career of acclaimed performances!
Check out the humorous exchange below:
How much would you like to win an Oscar?

"I couldn't care less."

Really?

"Well, I know it's going to happen."

Is that the persona or the person speaking?

"That's just a fact."

You're certain?

"I, personally, would be shocked if we went to the end of the tape now and I didn't have at least one."

Why?

"Because it just doesn't make sense. That's why I don't mind showing up and watching everybody else get them."

Why doesn't it make sense?

"Because I'm young enough, and I'm running down being occupied with these kind of genre movies, close enough. Even the next thing we're doing with the missus [Sarah Downey, his producing partner in Team Downey], I'm so confident about it. It's the best script the studio has; it's the best thing I've read in years. You know, honestly, my real answer to that is: I don't care. I used to think I cared, and I couldn't care less. Now, I'm not saying I wouldn't get a little choked up, but it is amazing to see how people are literally hyperventilating when they get up there, because they have such an attachment to this outcome. I mean, it's not like we're at the f—ing Olympics or something."

He tempers his view, a little.

"Look, even if I don't get one directly, eventually they're just going to have to give me one when I get old. So no matter how you slice it, I'm getting one."

Just to check: Will one be enough?

"No, I should probably have more. But zero's fine." The humility sits there alone for a moment, just long enough to get lonely. "Zero, or two."
I think it's pretty easy to think he's being egotistical here, but let's be honest — does anyone think Downey's wrong here?