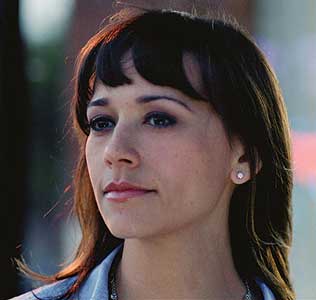 Fans of NBC's Thursday night comedies are used to seeing Rashida Jones' name in the credits of Parks & Recreation and The Office, but until recently, the actress had never been associated with writing scripts.
Indie comedy Celeste and Jesse Forever, the movie Jones co-wrote and produced with ex-boyfriend Will McCormack, debuted at Utah's Sundance Film Festival last week.
"I just took a picture of my badge, which says 'Actor/Writer/Producer,'" the 35-year-old, who also stars in the new film, told New York Magazine. "It was the best moment of my life. So good. So good."
She should get used to that feeling. Even though they're no longer a pair, Jones and McCormack have several other writing projects currently in the pipeline. For now, though, Jones is excited about having pulled double duty for Celeste and Jesse, which follows two exes and their attempts to keep their friendship alive.
"I tend to play the dependable, affable sidekick-girlfriend-wife, which is great, but it's definitely not all of who I am or what I'm capable of," she said. "I definitely thank Will for this, eternally, that he gave me the opportunity to play this part that's colorful and flawed."