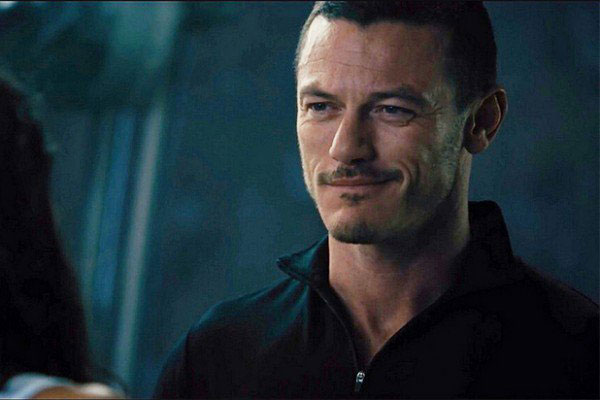 "It's a validation that you are the right person for the job because they've chosen and they've seen you do something connected to that role." – Luke Evans on Auditioning
Luke Evans can currently be seen on the big screen opposite Emily Blunt in the thriller, The Girl on the Train. It's a straight role of a broody, mysterious character for Evans, but his roots lie in musical theater. In fact, Evans is set to bring those talents to the big screen too, when he takes on the role of Gaston in Disney's highly anticipated live-action remake of Beauty and the Beast. Not bad for someone who admits they just 'dropped in' to musicals. Evans made a career out of singing for nine years before he took his first role in a straight play at the acclaimed Donmar Warehouse in the U.K., where he was promptly (and humorously) nominated for a 'Best Newcomer' Award.
"You just sort of have to bite your tongue and say, "Thank you very much, it's nice to be acknowledged." In a way, I was being acknowledged for the first time because I hadn't done any straight plays, so that was a really amazing moment," Evans says of the acknowledgement, adding that he really only got the role in the show because of his own determination.
"You can never get tickets; can never get seen by the casting director. And I managed to do all of that off my own back. My agent at the time couldn't get me a meeting so I wrote a letter to the casting director and I said, "Listen, I'm a Welsh actor"—I said Welsh because the play that they were about to cast was about two Welsh boys and I thought, "This is my role, this has to be mine." I said I was 28, I was in Rent, I was playing Roger down the road—"If you want some tickets or if I could see you for five minutes it'd be really nice to meet you." And she called seven days later and said "Come in." That's sort of how it all started, really." Evans adds that he had never written a letter like that before. "Never. But I would recommend anybody to do it. What have you got to lose? That's what I felt; I was like, "Well, f— it, if they don't contact me back what have I lost?" But I didn't lose anything, and I gained a wonderful experience and it opened so many doors for me. It allowed people to see me in a different light to this musical theater actor. That really was a big moment career-wise for me—huge moment."
Making the move from stage to screen is something that has seemingly come naturally to Evans, and indeed, in many ways, it did. He admits that while working on camera is different to performing live, he learned how to do it but watching others. "I had no clue whatsoever. I've always been quite good at watching someone do something and then picking it up, so I turned that talent to watching people on the film set, and just saw how small everything was and how intimate the scenes could be. If you work with amazing actors, you've got a master class happening in front of you. But [also]it's just acting at the end of the day. You've got to be in the moment and respond to what you're feeling. I try to simplify it as much as possible. You can over complicate everything with techniques; when you're in the moment, you have to feel that you are that character, that you're feeling the pain or the happiness or whatever it is that they're feeling in that moment. Usually the authenticity will manifest itself."
For Beauty and the Beast, Evans found himself in competition with a lot of other actors for a very sought after role. He was triumphant, though, and his enthusiasm for the movie and his role really comes through as he discusses the process he went through to get cast. Like most people, he's excited to see the finished result.
"I had to audition. They wanted to hear everybody. I can tell you huge names that were in the room before me and after me. I was like, "F—." Everybody was being seen for these roles, and for Gaston especially. It's a great role, and he has this big song—well, there are a few big songs. I went in and met Bill Condon and it was quite nice. Sometimes when you audition it's quite a nerve wracking thing, you're quite exposed and maybe have only had the script for a few days before. I remember going in and I knew the song and I knew that I could sing it really well—that's what I've done my whole career up until this point. It was one of those moments where I could relax and thoroughly enjoy every minute of it, knowing that vocally I could do it. It was quite nice to see Mr. Condon's face at the end of it smiling away. I was like, "Okay, well I think I've done something right in this room." But I went back twice to try different things and it was great. It's quite nice to audition sometimes. I'm in a fortunate position that sometimes you just get offered roles—they're not necessarily the roles you take, but to get offered a film is amazing. I think the work you've done before that is why you get it. But when you audition for something you do feel a little bit more legit. It's a validation that you are the right person for the job because they've chosen and they've seen you do something connected to that role."
We won't get to see Evans in all his obnoxious Gaston glory until March, 2017, but for now we can be content to watch him in The Girl on the Train as Scott Hipwell, an intriguingly dark character with a suspicious past. Is that a motive for murder? You'll have to watch the film to find out!