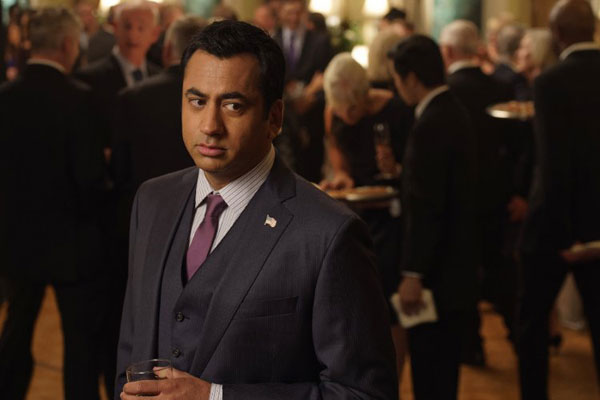 It's common knowledge that even today minority actors aren't offered the same opportunities, yet it's worth pointing out that much has changed just in the last 15 years. Actor Kal Penn, who has been appearing regularly on TV and in films since the late 1990s (aside for taking a few years to work for the Obama administration), faced many instances of discrimination early in his career. He recently shared some of those unpleasant memories on Twitter.
Penn posted, "Found a bunch of my old scripts from some of my first years trying to be an actor." These scripts included projects that called for:
A "Gandhi lookalike"
A character named "Careem," for which he as asked to adopt a heavier accent to be "authentic"
A pilot in which his request to play his character without an accent was denied
A television episode where his character was made on of for having a long name
An MTV show which jokes were made about his character's accent and amount of cologne he was wearing
An episode of King of Queens to play a character named Sanjib, whose name gets made fun of
While there were many frustrating situations, there were also positive experiences. Penn also took the opportunity to praise shows that didn't feature such typecasting during his auditions: The Steve Harvey Show, Buffy, Angel, and 24. He also praised House, which he starred on from 2007 to 2012, for featuring a multiracial cast.
Though we know that practices like this unfortunately continue, it is also worth bringing attention to both good and bad examples of minority roles in the past so creators can get a better understanding of how to approach minority characters without resorting to stereotypes or jokes about culture or race.
Found a bunch of old scripts from some of my first years trying to be an actor. pic.twitter.com/GydOwlUKGW

— Kal Penn (@kalpenn) March 14, 2017
Jeez I remember this one! They were awful. "Can you make his accent a little more AUTHENTIC?" That usually meant they wanted Apu pic.twitter.com/3F5XRORO3n

— Kal Penn (@kalpenn) March 14, 2017
This was a pilot called The Stones. Tried to convince them to let me speak without an accent & make it funny on the merits (was told no) 😂 pic.twitter.com/SuUVYT7rip

— Kal Penn (@kalpenn) March 14, 2017
Friggin King of Queens man! I used to love that show until I got to audition for it lol pic.twitter.com/2BYu0nnd57

— Kal Penn (@kalpenn) March 14, 2017
I do not remember this audition except that it was for some shitty MTV show and the big joke was an accent and too much cologne 🙄😂 pic.twitter.com/7HZbhQCkaB

— Kal Penn (@kalpenn) March 14, 2017
via New York Daily News