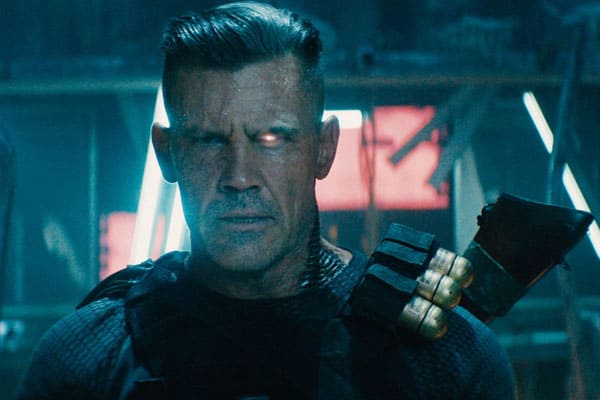 "I always feel the pressure to perform, and to utilize my imagination, and whatever skill that I have." – Josh Brolin
Josh Brolin can claim a rare distinction — for the weekend of May 18-20, he was in both the #1 movie at the U.S. box office (Deadpool 2) and the #2 movie (Avengers: Infinity War), with the films grossing more than $150 million combined at domestic theaters over that three-day period. The Oscar-nominated actor is arguably more popular now than he ever has been — though to hear him speak of his career, as he did in an extensive interview with Den of Geek, Brolin makes it sound like he's stumbling from one failure to another no matter how much praise he gets for his work.
Despite being one of the most successful Hollywood actors of the last two decades, Brolin still thinks of himself as recovering from failure after failure. When it comes to failure, he remarks:
That's my whole career. And that's not a joke. People have said to me, even me doing stage and that kind of stuff… all actors have their worst nightmare. I've had every worst nightmare come true. In a good way, in hindsight. Not while it was happening, but in hindsight.

I've forgotten major monologues on stage, I've had props that weren't there that were supposed to be there. Lighting problems where we had to start a play over, and when we finally got someone over from New York to critique what was a really good play, it f—ed up the entire night. To movies that were supposed to work that didn't work.

In my experience, I think that's a really good thing, because it's kept me from – even though I may come across with some arrogance – having any true arrogance whatsoever. Because I've been humbled too many times to believe it's not always right around the corner. Even right now, by the way.
Interestingly, one can look at Brolin's career — from The Goonies to Coen Brothers movies, to blockbuster comic book movies — and see absolutely no clear direction. But that's exactly how Brolin sees his career — as a matter of moving from one role to another. He explains:
What do they say? The pinnacle of wisdom is to treat everything with a beginner's mind. I don't really follow that, but that's the thing. People say what's the similarity between you doing Avengers, Cable, No Country For Old Men. There's no throughline to any of it other than I'm acting in any of them.

For me, there's no difference between doing Avengers, No Country, Milk, The Goonies. It's all dealt with and dived into in the same way. It's a new part, it scares me, I don't think I can pull it off. I'm very into prep, confronting my own fear and insecurities about being able to pull something off. That's never changed.
In fact, Brolin says that he honestly doesn't see much of a difference between what he did 30 years ago versus what he's doing now — and sees that as a reason to tell producers that he wants to explore more avant garde work… including his dream project, The Hunchback of Notre Dame. He says:
I've said it before, but people have said 'what was it like doing C minus work when you're doing A work now?'. And I say 'who the f— said it was C minus work?!'. It was the best work I was able to do at that time, and I now I continue to do the best work I'm able to do. The difference is, which I still adhere to and when I go off this necessity of working with great filmmakers, because it's a great protection… when I don't do that, I see the result. The result is usually not very good.

Doing these tentpole movies… we're talking about doing Quasimodo again. It's something I've been developing for a long time. It's something I was going to do with Zhang Yimou. But then [the studio]didn't approve him at the time, and so it kind of fell apart. We're revisiting the idea of doing that as bigger film, and I love that. Why would you say 'I want to do this as a guerrilla film, a practical film?' Having experienced Deadpool and The Avengers, I'm like why would you not want to take advantage of the technical proficiencies now? This cutting edge time? To be able to do Quasimodo climbing up in Notre Dame. I love the idea of that.
Despite his acclaim, Brolin admits he does still experience the fear of not being good enough — but he sees being hired for roles as a validation that he is good enough for the part. Especially in a film with an expansive cast like Avengers: Infinity War, Brolin reflects on how he got picked to play the villain among a cast of actors he respects. He says:
There's intimidation with all of it. When I worked with the Coens on No Country, and on True Grit, and on Hail Caesar!, I remember going onto Caesar the first day and being terrified, thinking I couldn't pull it off! But I knew I had the confidence of my guys for the most part. I don't know, man. I don't know why I don't feel that kind of pressure. I always feel the pressure to perform, and to utilize my imagination, and whatever skill that I have. But I think the difference between the $1m film and the $500m film is the same to me. Other than I look across the thing and I see Chris Hemsworth and go 'what the f— is he doing there?!' on this one million dollar film!

When I was doing Avengers, and sitting in the chair. There are all these actors I've worked with, who I've known for a long time. There's Don Cheadle, there's Ruffalo, there's Scarlett Johansson, there's Chris Evans, Chris Hemsworth. I'm like, what the f— am I doing here? How did I get here? That's more the awe moment than doing the work. Because you see everybody struggling doing the work.
With that in mind, Brolin reflects on when he hears compliments from others. One problem with actors hearing praise is allowing themselves to become complacent because of the compliments. Brolin says, "It affects you when somebody tells you that you're great. It affects you when somebody tells you that you're not so great. As long as I keep all that very conscious. My biggest fear is believing the hype. Becoming worse and worse and worse at what I do. I've seen it happen a lot, and I don't like that phenomenon. I don't like that reality."