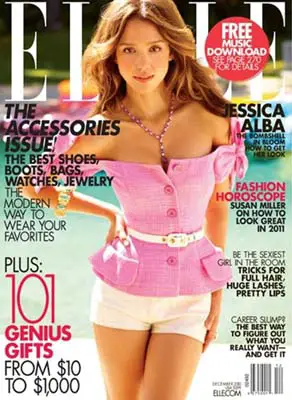 Yes, she said that.
Jessica Alba, the star of Fantastic Four, The Love Guru and Honey told Elle Magazine that, "Good actors, never use the script unless it's amazing writing. All the good actors I've worked with, they all say whatever they want to say."
Really? So, the next time I go into an audition I don't have to even go over the sides? I can walk in and say whatever I want? Suh-Weet! Thanks Jessica!
I wonder if Meryl Streep, Robert Duvall, Colin Firth or Daniel Day-Lewis don't follow the script? Oh… wait. She's never worked with them.
She also said these word's of wisdom:
"The time I'm not spending with my kid has to be worth it, so when I sat down with my agents after I was ready to go back to work, I told them: It's all about the directors."
"I know I haven't been swimming in the deep end with some of the movies I've done. I wasn't trying to. I knew what they were."
"I'm shy. I don't like being the center of attention. But when I do comedy, I lose all inhibition and introspection. I no longer care."
"I'd been so afraid of criticism ever since I was young. Every time I'd get a critique or some redirection, I'd always just take it very personally, but now I have no problem with it. It's just a chance to try things a different way. To play more with a character. It also gives me a chance to have some input, to use my voice."