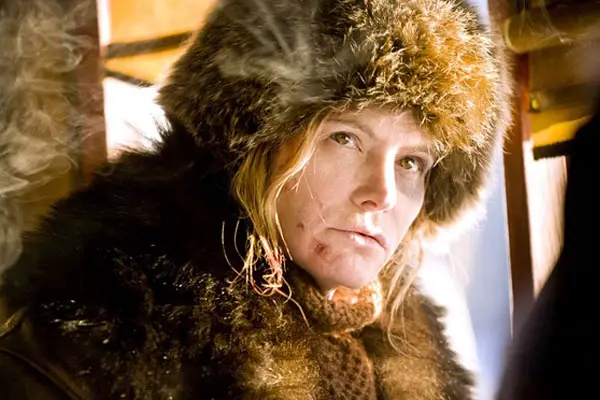 "I think that's an incredible thing that we can do as actors—to feel empathy toward someone that you may otherwise detest, you know?" – Jennifer Jason Leigh
Anticipation for Quentin Tarantino's The Hateful Eight is at an all time high as he's again teaming up with Samuel L. Jackson and, for the first time, working with Channing Tatum and Jennifer Jason Leigh. The 53-year-old actress got her start in the late '70s and in recent years has owned the small screen on ABC's Revenge and Showtime's Weeds. She'll soon return to television for the reboot of Twin Peaks, but before she does that she'll have to go through the whirlwind that is working with Tarantino. She recently sat down with Interview's Michael Martin to talk about the upcoming release as well as what it was like working with the infamous director.
Leigh will star as Daisy Domergue in The Hateful Eight, a post-Civil War movie set in Wyoming during a blizzard. She described Domergue saying, "She's like a rabid little animal. Like all the characters, she is hateful, I suppose, but I truly loved playing her. She's quite feral. She's a prisoner and she's a survivor, so she'll do anything she can to survive."
When asked about being able to capture that rabidness of a character she noted, "I certainly enjoy playing those types of people. They're easier to play in a way, because they're farther away from who you are, but you can tap into things you would never act out on in your own life, or never expose to everyone. They're the things nightmares and dreams are made of, but they're not anywhere you would actually want to go or dwell in. It's fun to do that in a really safe, creative way, and probably really healthy, I think."
On working with Tarantino, Leigh had nothing but praise to send his way. "He's completely authentic. And he is truly enthusiastic and loves people. And he's just a genius. I don't have any qualms about using that word, because it's true. I feel lucky to be working with him. That's not the most common experience in this town." She added, "There's so much generosity of spirit. Everyone wants to give him 100 percent or more, everybody wants to go as far as they can, to be as free as they can. Nothing feels like a risk, because it's all about jumping into a free-for-all with him. But you do it with such joy, because he's such a master. You feel truly safe. And he's so kind."
When Martin pointed out that her fans have always been able to have a connection with her characters, she was humble, saying, "That's a huge compliment. Especially when you're playing people who are living in extreme circumstances. What you want to do is make people feel like they understand that person. I think that's an incredible thing that we can do as actors—to feel empathy toward someone that you may otherwise detest, you know?"
That humble approach to her work is what's made her career last so long. However, Martin then asked her to look back through the years and note if she's accomplished all that she's wanted. Her last words were, "I don't know. I feel like I turned down a lot of things that I wish I hadn't. But you never know when you're younger. I don't have regrets about certain things I turned down. Those films would have required things of me that would have been challenging, and they ended up being really good movies. But I was never a careerist, I never thought in those terms. I'd be like, 'Oh, I'm tired. I don't want to work.'"
'The Hateful Eight' opens in theaters January 8.