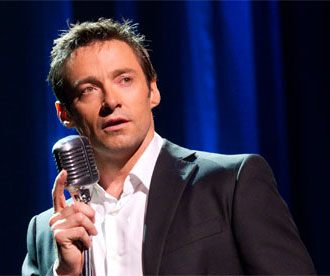 Where isn't Hugh Jackman these days?  He not only stars in Real Steel, the #1 movie at the box office this past weekend, but is gearing up for his own show in a return engagement on Broadway in Hugh Jackman, Back on Broadway.  But Jackman took a momentary break from his busy schedule to talk to Collider.com about his approach to acting on both the screen and the stage and on the intimidation of his next big role.
One of Jackman's next major roles is Jean Valjean in Les Misérables, one of the most successful musicals of all time.  Jackman, who says he has seen the musical three times, claims that landing such a role is both intimidating and fun… because it's the same thing to him.
"It's intimidating, and that's the fun of it. I feel, you have to be a little bit intimidated or a little bit nervous. The percentage is probably 80/20. If 80% of you is really, really confident you're going to nail it, and 20% of you is genuinely, really not so sure, that's the kind of percentage you need to push yourself on, to do better than you've ever before. If it's 100%, then I feel the audience can feel it. I feel like Jean Valjean is one the great literary figures in musical theatre. It's one of the most famous characters of all time. Whoever is playing it, it should be them at their best, you know? That's why I'm singing everyday and have been for awhile. And, that's why I auditioned for the part," he said.You read that right, Jackman wanted to play Valjean so badly that he auditioned for director Tom Hooper before he agreed to direct the film!  Jackman claims, "I rang Tom Hooper and I said, 'Tom, I'm coming in and I'm auditioning for you.' He said, 'Well, I actually haven't made my deal yet.' I said, 'I don't care. I'm coming in now.' That audition was three hours. This was not one where I was going to sit back and wait to see if it came to me or not. I chased it."
Since Jackman has had success both on screen and on stage, one would imagine that he brings different skills to each.  However, Jackman disagrees with that assessment, seeing them as mostly similar.  He explains, "Obviously, on the day there is a difference. As an actor, you have many tools – your body, your voice, your emotions, mentally. In film, you have your eyes because they communicate your thought process. In fact, generally in film, what you don't say is more important than what you say. That's not so much the case for stage. However, if you haven't done that work and you don't know what's going on internally, particularly for a musical, and there's not real thought behind the song, then no one will feel anything. But, essentially, acting is acting. It's the same thing. So, I'm forever grateful that I did theater first. I think it's much easier to be able to distill the technique from theater. It's not like, 'Let's just add water to film.' There are genuine muscles that you need on the stage, that you don't develop in film."
Well if anyone knows anything about conquering both the musical stage and silver screen, it's Jackman.  Now if he can only give us some tips on how to jack yourself up as he does for every X-Men sequel, we'll know all his secrets!