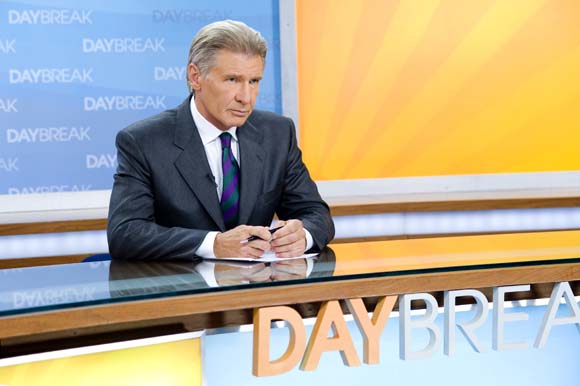 Harrison Ford plays the Tom Brokaw-esque character, Mike Pomeroy, in Morning Glory,
He talked to Moviefone about the film, working with Rachel McAdams and why he can't pick a favorite role.
Your character has a very antagonistic relationship with Rachel McAdams' in this movie. Was it fun playing against her?

The fun of it is playing with Rachel, not against her, even though the characters are contrived to be in opposition. The pleasure is working with somebody who has such a facility of comedy but yet is so emotionally available. She brings a kind of depth to the comedy that's rare, and in this case really necessary and appropriate. So I found it a real pleasure to work with her.
Why did you take the role in 'Morning Glory'?

They gave me hundreds and hundreds of dollars. No, I took the role because I hadn't had a chance to play a character like this and I thought it was going to be a really good movie. I admired Rachel. I admire Diane [Keaton] and I came to know [director] Roger Michell, who is terrific. I did [producer] J.J. Abrams' first movie with Mike Nichols 25 years ago and I just had the chance to work with some really good people on ambitious material.
If you had to, could you pick a favorite role you've done?
No, any more than I could say which of my children was my favorite child. They're all different. They all come out of different circumstances and they have different intentions. You know, I love the work so I'm happy to have the opportunity to do all kinds of films. But I don't really have favorites.

Through Han Solo and Indiana Jones especially, you kind of created these "action heroes" that don't exist in movies anymore. What was it about you that made that happen?

I think it was just a lucky opportunity that I had. The movie business was in its heyday, really, when 'Indiana Jones' came along. But I don't really even think of them as action movies. I mean, sure, there's a lot of action in them, but I think of them as adventures and as fantasies more than I do as action films. But I'm really happy that I had the opportunity to play those roles and certainly their success allowed me to do a lot of other films that I might not have been able to do. So I'm very grateful.
For the whole article, click here