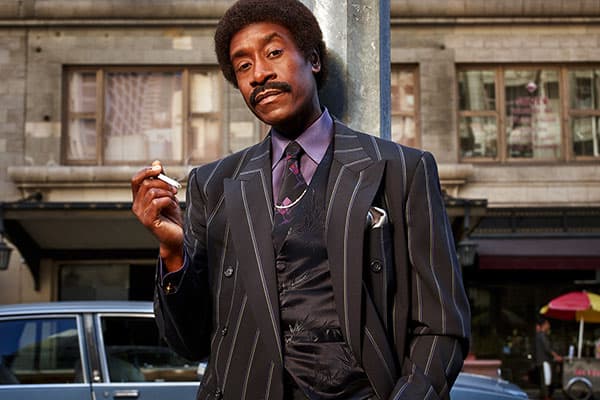 "Your body and your nervous system doesn't always know that you're acting. You come home and you're like, 'Why are my shoulders up to my ears?'" – Don Cheadle
On Black Monday, Academy and Emmy Award-nominated actor Don Cheadle portrays Maurice Monroe, an unscrupulous 1980s Wall Street stockbroker living under an assumed identity. Over the course of the series, Monroe's secrets and inner turmoil are shown to the audience, and is all performed masterfully by Cheadle.
However, in an interview with Variety, Cheadle talks about the issues actors face when playing a character whose actions come from a painful place.
Cheadle reveals that portraying a character who is in pain on screen has a tendency to affect him off-screen. He explains, "It has to come from some place where you feel the heart beating. I'll speak for myself: I relish it all. I tend to under-value the effect it has on me, but as I've gotten older I realize it's real and your body and your nervous system doesn't always know that you're acting. You come home and you're like, 'Why are my shoulders up to my ears?'"
To elaborate, Cheadle points to how important it is for an actor to be able to pull himself or herself out of the painful parts of the character he or she is portraying. He continues:
"You put these clothes on and you start to give signals to your body that you're this person again, and you start getting into these different tempo rhythms and different things start getting accessed. So there is and there can be a residual thing when you get into dark characters and when you're playing a lot of heavy, emotional stuff — and we can all talk about actors and creative people not being able to pull out of the places they put themselves in. You have to be careful and you have to take care of yourself, especially now, in this environment. Self-care is real and listening to yourself and taking care of that is really real."