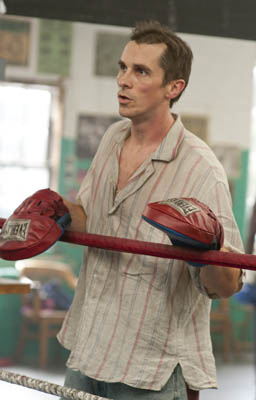 Christian Bale plays so many Americans that it's sometimes odd to hear him talk in his own Wales accent, isn't it?
In his Oscar nominated portrayal of Dicky Eklund, the star of The Fighter nails the Boston-born fighters accent.
In this interview with AZCentral, he talks about how he gets his American accent, if liking his co-star helps him turn in a better performance and how he got the part.
Question: This is an odd start to a talk about such an intense role, but how do you work on your American accent?
Answer: Just taking time. That's all it is, because I'm not good with them straightaway. A lot of people, they can pick them up straightaway. I just take time. I slowly, slowly, slowly start to figure out each word. Give me a couple months and eventually I'll have it down.
Q: It seems like if it didn't become second nature, it would get in the way of the acting.
A: Exactly. I don't ever have a dialogue coach on the set or anything like that, because I think by the time you start doing that, if you haven't gotten it down, something's wrong anyway. So I just start doing it well ahead of time. It gradually catches up on you. It's like sticking a frog in the saucepan — it doesn't know until the heat starts going up, and then he's boiled.
Q: Much of the movie depends upon Dicky's relationship with his half-brother, Micky, played by Mark Wahlberg. Does that depend on you having a good relationship with Wahlberg?
A: I think the mistake that a lot of people make is they think the two actors have to have that kind of relationship. And it's irrelevant, really.
It probably helps if you like each other. It probably helps if you're not distracted by repulsion toward the other person. But the fact is, it doesn't matter how well you know each other as Mark and Christian. We can be hanging out, laughing together, best of mates. But that doesn't translate into Dicky and Micky. You've got to learn how to do it as Dicky and Micky.
Q: What if the characters are supposed to hate each other?
A: Well, then you're a good actor. You learn how to do that without hating the other person.
Q: How did you wind up in the film?
A: Mark's daughter and my daughter went to the same school briefly. Mark had been trying to get this movie made for a long time, had various people drop out. He saw me on the first day of school and we said hi. A few weeks later he sent me the script to "The Fighter." And that's how it happened.