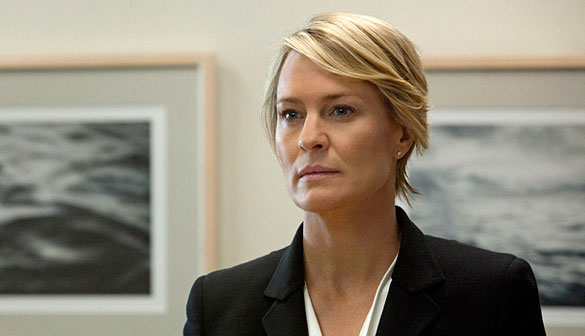 Robin Wright is hot off the awards show podium with a win for Best Actress in a TV Series, Drama for House of Cards at the Golden Globes in January. However, the actress is not one to rest on her laurels. She's stretching herself even further on the second season of the Netflix show.
This season she's directing an episode after talking with co-star Kevin Spacey about his own desire to direct in their sophomore season.
Wright revealed,"I said, 'I want to, too,' and I kept saying that to multiple parties. They said, 'Yeah sure,' and I just kept saying it over and over. I was and am serious. I'm tired of biting my tongue. As an actor, I had noticed very vividly that very few directors know how to direct actors, because they haven't done it. I'm not at all sure I know what I am doing, but I know what brings good work out of actors."
The return to the spotlight for the 47-year-old star has been a peaceful one. She has enjoyed the fulfillment it has brought her.
"It feels like a second coming, not in a religious way, but for me personally," she said. "I am the age I am, I have been in this business for a long time, and I didn't work a lot, because I wanted to raise my kids. I have no regret about that. But this is a very different chapter I am embarking on."
This is a dramatic turn for the woman who focused on her family life with now ex-husband Sean Penn and their kids, daughter Dylan and son Hopper. She then shared why it's a bit scary for her to return to an acting career.
"I'm up against a lot — my reputation, you know, 'Robin turns everything down,' or 'We haven't seen her since Forrest Gump.' But it wasn't like I was passing on amazing work," she said. "I was a type. 'Cast Robin, she's really good with no dialogue, but you can watch her go through all the manifestations of pain and suicide and decide to live.' "
Wright knew exactly what she wanted.
She explained, "If I was going to work, I wanted it to be a meaningful choice. I don't want to always be the tortured, soulful wife."
The Netflix star knows at this phase of her career, she's doing it on her terms.
"I'm not going to sit and wait for a job offer or a prospect, someone to tell me something I might be good at. I want to make things, develop things, direct things, working with Ben [Foster, her fiancé] and others. By this point, I think I have some understanding of what work might be good and how to go about it."
House of Cards returns to Netflix on Feb. 14.