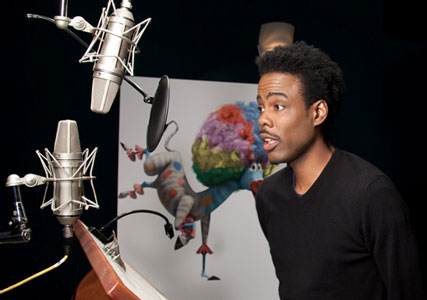 By the time most franchises reach the third film, audiences are either sure they've seen enough (does anyone really want to see a Men in Black 4?) or still clamoring more.  In the case of Madagascar 3: Europe's Most Wanted, which topped the box office this past weekend, the franchise might still have legs.
That will be good news for star Chris Rock, who voices Marty the zebra in the series.  Rock memorably joked about voicing a cartoon character as "the easiest job in the world" while presenting the Best Animated Oscar at this year's Academy Awards.  As evidence, he said, "I go in a booth and I say, 'What's the line?' And a guy goes, 'It's time to go to the store.' And then I say, 'It's time to go to the store !' And then I go, 'What's the next line?' ' It's getting dark outside.' So I go, 'It's getting dark outside!'…And then, they give me a million dollars!"
Rock continued to joke about how "easy" it is to voice a character in an animated film in an interview with New York Daily News.  He jokes, "Yeah, I didn't have to go to Monaco and live with zebras. But when I say it's not work, I'm comparing it to actual work."  He then says to the reporter, "We're in a hotel room that someone has to clean up later. [That person] would not think my animated job — me getting into a recording booth — was work!"
Whether or not it was "work," the recording sessions for Madagascar 3 took place over a two year period.  So while it may not be as tough as memorizing pages of dialogue for a film (or for a Broadway show, as Rock had to do when he starred in The Motherf****r with the Hat last year), it's probably not the walk in the park Rock describes it as.