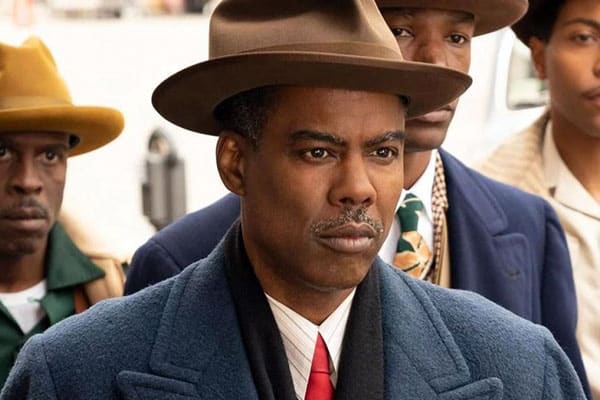 "I want to work on good stuff. Everything I've done hasn't been great, but I was always striving for greatness." – Chris Rock
When people were skeptical when FX announced it was creating a TV series "inspired" by the classic Coen brothers 1996 black comedy crime film Fargo, particularly since the Coen brothers were not involved in the series. However, the series — which features different storylines in different time periods every season — has received both popular and critical acclaim, particularly when it comes to its stellar casting. Season 4 features comedian Chris Rock as a crime kingpin in 1950s Kansas City.
Rock spoke to the New York Times about the series, why he considers it the best role he's ever had, and what it was like resuming shooting the series after COVID-19 shut down production.
Rock is excited about the opportunity the role offered him, remarking, "It is the best part I've ever, ever, ever had. I hope it's not the best part I ever have. Hey, Morgan Freeman's done a hundred movies since Shawshank Redemption. But that's the best part he ever had."
Naturally, the interviewer points out that Rock is not known for roles is prestige drama series, but Rock says that his casting is much more appropriate than he might suggest because of other comedic actors who appeared on previous seasons of Fargo. He says, "My casting isn't as weird as it seems if you really watch Fargo. Key and Peele are in the first season and Brad Garrett's amazing in Season 2. Hey, it's my turn, OK? I want to work on good stuff. Everything I've done hasn't been great, but I was always striving for greatness. I loved Marriage Story. I'd kill for something like that. [Laughs.] You see what [Adam] Sandler did with Uncut Gems. But you've got to get the call and be ready when your number's called."
The cast and crew of Fargo finished shooting the series in August after COVID-19 forced production to shut down earlier in the year. Obviously, the cast and crew were forced to take precautions — which was both odd and challenging for Rock. He explains, "It's weird, quarantine when you're acting. Acting can be isolating, anyway, and then you throw quarantine into that. You're in solitary confinement with Netflix and Uber Eats… And then to actually act and get tested every other day, and wear a mask whenever you're not saying your lines. And be cognizant of which zone you're in. Because for Zone A, everyone's been tested, but in Zone B, not everyone's been tested. Zone C is just, everyone's got Covid."