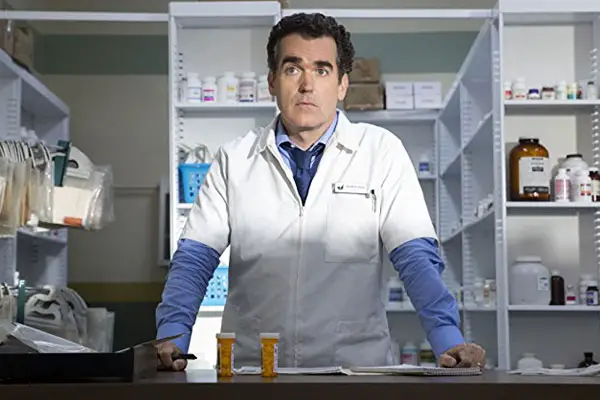 "Cause that's where you're challenged and that's where you grow and that's what makes it interesting." – Brian d'Arcy James on Finding Variety in His Roles
Broadway favorite Brian d'Arcy James may be best known for his stage performances, but he's been appearing in high-profile films and television shows for quite some time, including the Oscar-winning Spotlight and the popular Netflix series 13 Reasons Why. In an interview with Flickering Myth to promote the DVD release of Aaron Sorkin's directorial debut Molly's Game (which James appeared in), James spoke at length about his successful acting career across many mediums.
Considering James is a regular on Broadway, the interview asks that since he often jumps from playing a role onstage for months to a totally different film or television role difficult. James responds:
You know, it's not difficult, I find it invigorating. It's a change of pace for me because I've had a steady diet of the theatre for most of my career, and since Spotlight things have changed into a different gear. I like it because you get a sense of jumping in full force and figuring out how to crack the code of a character and working really hard. In comparison to the theatre, you have less time to get that work done. By the time you're done shooting a film, whether it's three days or three months, if you're lucky to go onto something else you have another mountain to climb, so the time in between is shortened and there's more stimuli coming at you at a faster rate, which I really really enjoy. So that's the biggest difference and I'm enjoying that.
Because of that variety and willingness to tackle roles in any medium, James has played an incredible variety of roles on stage and screen. On how he selects his projects, he explains:
"The ideal version of events is that you try to find something that you haven't done before. Whether that's a type of character or a particular type of story or something that's going to challenge you, and that doesn't always come across your desk, that's not always possible. The next thing you look for are the people that are involved and if you're interested in working with them, and usually, 9 times out of 10 the answer is a capital 'Y' 'E' 'S.' From an actor's point of view, from a challenge point of view, you want to try to find things that are perhaps a degree, or many degrees away from the last thing you did. Cause that's where you're challenged and that's where you grow and that's what makes it interesting."
He also views that his variety and roles and prolific nature are an extension of his earlier years of conditioning of auditioning for several roles at a time and not always landing them. He reflects, "I think I prefer to be busy, it help me do other things as well in my real life. I think all actors are conditioned to that kind of work ethic, in that most of the time you're out there hustling trying to get work, and then sometimes things change, and you're going from job to job, audition to audition. In my experience, the bulk of my time as an actor has been 'hustle, hustle' to get to the next thing and usually you don't get it and then you have to get right back on the horse and find something else."