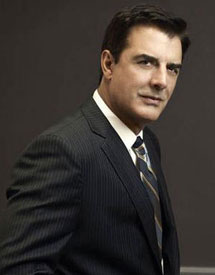 Chris Noth hasn't appeared as Mr. Big in the Sex and the City movies for over three years, and the HBO series ended in 2004. Despite the passage of time, the actor is still most recognized for that role.
"It's kind of like a fly that buzzes around that you occasionally have to swat at," he admitted in an interview with The Wall Street Journal.  "I sort of deal with it in the moment and then forget about it.  It doesn't really impact my life except in the moment when I have to take a picture with someone or a journalist asks me.  As an actor once you do something, for me at least, you really leave it there for the screen.  I don't carry it forward with me."
Noth has been proving he's more than just Mr. Big with his role on the CBS drama, The Good Wife.  "It's a great network show," he said.  "They really got it together…and it's executed really well.  Especially with network shows, they have more pressure to compete with cable.  It's difficult for networks and I think The Good Wife can compete with cable.  Cable can go to those places the networks don't like to go.  They have more access to darker material."
No matter what channel shows are airing on, the actor thinks it's a great time to be working in television.
"I think [TV] opened things up for actors, especially older actors," he explained.  "You look at the movies now, it's hard to have an adult on the screen and the franchises are for comic books…and action.  If you want the big Spiderman movies then you go to a movie theatre.  If you want the human drama stories it seems to me you're going to find that more on TV."
The Good Wife will air its fifth season this fall.