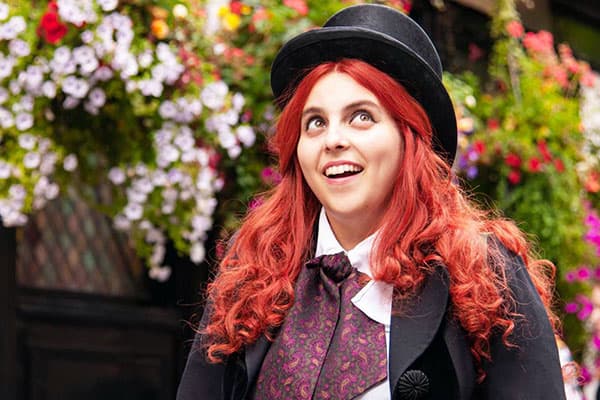 "I started auditioning for film because, for any given theater audition, there are about 40 for on camera… It takes so much to create musicals, and how many parts for someone your age? Someone your vocal type? There are so many specifics." – Beanie Feldstein
Actress Beanie Feldstein received notice by audiences from her performance as Julie, the best friend of the title character of the Oscar-nominated film Lady Bird. She has since appeared in the coming of age comedies Booksmart and How to Build a Girl and is preparing herself for bigger opportunities on screen and stage (she appeared in the 2017 Broadway production of Hello, Dolly!).
She spoke to Variety about her career growth, speaking at length about her frustration of being considered just as a "type" while trying to begin her acting career.
Unfortunately, Feldstein reveals that before she even became a professional actor she was subject to typecasting. She remembers, "The only thing I ever heard when I was younger, because I was chubby and I love to sing, was 'Have you ever played Tracy Turnblad?'", a reference to the "pleasantly plump" teenage lead of Hairspray.
Naturally, that repeated pigeonholing annoyed Feldstein. She explains, "I love [Hairspray], but for some reason, I heard that so much growing up that it became a sore spot for me. Why can I only be this? I can be anything I want. What about the baker's wife in Into the Woods? Or Winnifred in Once Upon a Mattress? Or one day, Amy in Company? What about all these other roles I would love to play, and why am I excluded from them because of my dress size or whatever it might be?"
Thankfully, Feldstein is working at time when an increasing number of roles for every type of look are being cast. She reflects on that, saying, "I was especially lucky to be entering this industry at a time when things were growing at such a rapid rate and people were being welcomed in at such a rapid rate. We have so much farther to go with inclusivity, but that was happening when I started. I thought, why would I shut myself off from these opportunities just because I don't know if I can do them? I don't take it lightly, because I know how many talented people are out there."
That change in the industry encouraged her to audition more for film in addition to her television and theater work. She explains, "I started auditioning for film because, for any given theater audition, there are about 40 for on camera. That ratio of production. It takes so much to create musicals, and how many parts for someone your age? Someone your vocal type? There are so many specifics."