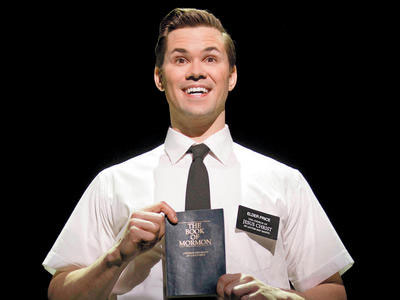 The Book of Mormon star Andrew Rannells isn't afraid to admit his elation while watching the Tony Award nominations on TV, according to a recent article on Playbill.com.
"I will not try to be cool about that," said the stage veteran who was recently nominated for several awards for his role in the popular musical. "I turned it on, and I watched them! I was so happy to hear (co-star Josh Gad's) name, and then to hear mine in addition was really fantastic."
In all, Book of Mormon received 14 Tony nominations when they were announced earlier this month. Rannells was personally nominated for Best Performance by a Leading Actor in a Musical.
"We obviously were optimistic, but you never know how these things are going to play out, so I think we were all cautiously optimistic, but this is fantastic," said an excited Rannells.
The comedic production, which follows a duo of Utah missionaries as they try to convert Ugandan villagers to the teachings of their church, is directed by South Park creators Trey Parker and Matt Stone and Avenue Q director Robert Lopez.
"I was so intimidated, initially, to walk into rehearsal and try to be funny for them," said Rannells of working with such accomplished people. "But they provided such a great working environment, and I was immediately relaxed with them, and I trusted them, and they trusted me. They could not have been more generous with me and the material."