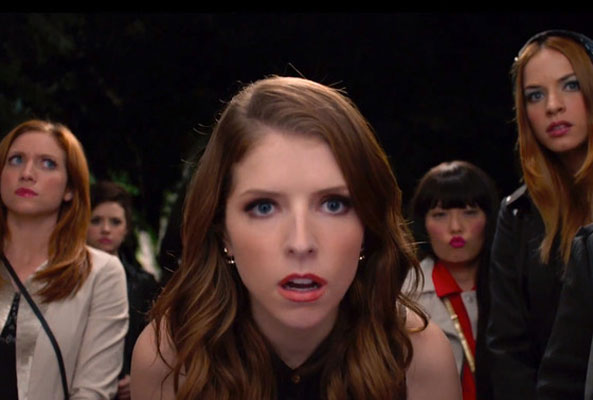 "As an actress you're perpetually about to be unemployed." – Anna Kendrick
Anna Kendrick is like a breath of fresh air to the Hollywood scene. Amazingly talented, she can not only act but sing and dance too, as demonstrated in films such as Into the Woods, The Last Five Years as well as Pitch Perfect and its new sequel, out now.
Kendrick is witty, smart and not afraid to say it like it is. If you have a Twitter account she is well worth a follow. Her tweets are comedy gold and she is not afraid to poke fun at the absurd situation she finds herself in, being an in demand Hollywood actress. She is someone everyone would love to have as a friend.
"As an actress you're perpetually about to be unemployed," she tells Glamour Magazine. "That fear—when you have two parents who worked 9-to-5 jobs and went through periods of being unemployed—is real. Those were not welcome times in my childhood. Working 14 hours a day isn't sustainable, but I prefer it [to doing fewer films]. I might as well be doing the thing that I wanted to do my whole life."
She does indeed work incredibly hard, and as a result she has landed fantastic roles in some really great movies. Who doesn't love her turn as Beca in Pitch Perfect? Yet Kendrick readily admits she experiences the gender bias of Hollywood just like everyone else.
"There's [a film I'm considering] now where I have to wait for all the male roles to be cast before I can even become a part of the conversation. Part of me gets that. [But] part of me is like, 'What the f–k? You have to cast for females based on who's cast as males?' To me, the only explanation is that there are so many f–king talented girls, and from a business standpoint it's easier to find women to match the men. I totally stand by the belief that there are 10 unbelievably talented women for every role."
As a devotee to the wit and wisdom of Kendrick, if that's the way she wants to spin the gender bias then I'm happy to go with it. The world is simply filled with too many talented women.