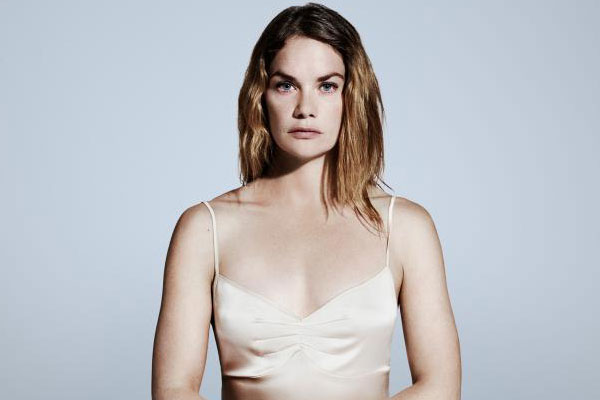 "I create a workbook by which I go through and write down everything every other character says about my character, what I say about myself and others" – Ruth Wilson
Actress Ruth Wilson of TV's The Affair and Luther recently took part in a Guardian webchat to promote her performance in the title role in  at London's National Theatre. Wilson went in-depth on her approach to acting, talking about everything from working on stage versus working on film and television and mastering all those accents:
What is her initial step in her working process?
Read the script many times. I create a workbook by which I go through and write down everything every other character says about my character, what I say about myself and others; I stick in pictures and references, historical images or places it's set; if a character is really hard to understand I sometimes write out their thoughts in the silent moments of my characters so I know exactly what she's thinking moment to moment. Obviously I need a lot of time to do this and that's not always the case. Surprisingly for Hedda, I've done the least amount of prep, and I've felt very liberated as a result.
What type of acting does she prefer?
I prefer stage generally, because it's with a live audience and so it's exhilarating every night, and I never get bored of that feeling. TV and film is much more intense and insular, and I find sometimes a bit more lonely for that reason. Both are challenging in their own ways, for the reasons just stated.
On developing her performance as Alice Morgan on Luther:
She is obviously based on a lot of psychopaths, so I went to a DVD store and bought every psychopath movie I could find, including Henry, and Silence of the Lambs. There is a delicious nature about Alice Morgan and the writing of her character seemed reminiscent of Hannibal Lecter, so he was a big influence. I also read a book by John Gray called Straw Dogs, a philosophy book, which helped me unlock her psychology – she believes all feelings are just forms of energy. The names, or labels that humans put on that energy, are constructed, and there's no real reason to feel guilt or pain or anger because they're just forms of energy. Once I understood this, I knew how Alice would enjoy manipulating other people's emotions.
On whether or not she had another career path planned:
I was always going to pursue acting. I decided in my third year at university studying history that I would audition for drama schools. University of Nottingham had a theatre on campus, performed in many plays, and worked with Carrie Cracknell – we did a silent comedy on stage, and went to Edinburgh and off-off-Broadway, and it was a huge success. I thought: I can make this a career. I'm not sure my parents agreed, they needed persuasion.
Developing the emotion complexities of a character:
I start from the character and motivation, and the inner workings and thoughts of a character, and this usually draws you close to a voice and a mannerism or a physicality. For example with Alison in The Affair, I get to play both sides of that character – my version from her point of view, she was someone suffocated by grief and self-loathing, so she appeared more shy, shoulders hunched, eyes averted, quiet. In Noah's point of view, she came across as predatory vixen, so my body language was entirely different. She came across as much more confident, and in charge of her own choices.
On maintaining the accent of her characters:
Very hard – I feel like it's taken three seasons to get it right! I think Matthew Rhys said 50% of acting is thinking about your accent all the time. It makes it easier if you keep it up between takes, even if you feel foolish doing so. After three seasons, I can speak in a British accent in between. It's different for everyone – some like to hear and repeat, but I have to work on it a bit, and find the rules of that particular accent. For example, I've just done a Yorkshire accent, and a lot of it is at the front of the mouth, up against the teeth, but it's flat, the mouth doesn't open much. There are certain letters that aren't audible. And it also helps to understand an environment, and why an accent is formed in the first place – city accents tend to be louder and quicker and faster than an accent that originates in the countryside. Though Yorkshire farmers are well loud! I often find my American accents seeps into other projects – the "R" comes back to haunt me all the time.
Seeing parallels between the characters she plays:
I start from scratch with characters though, and I find them all very different in their own way, and sometimes the revelations of them being similar will come out in the playing of them, rather than the construction of them. I'll find something down the line that I find similar.