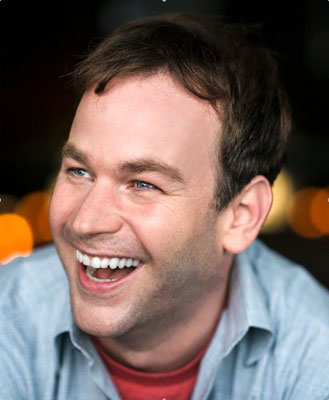 Comedian Mike Birbiglia, like Louis C.K., has become a big advocate for making your own opportunities in entertainment. On top of his successful stand-up and one-man shows, Birbiglia has written and produced two movies, Sleepwalk With Me and Don't Think Twice. Recently he wrote an essay for the New York Times titled "Mike Birbiglia's 6 Tips for Making It Small in Hollywood. Or Anywhere." As the title suggests, these are tips for any actor — or anyone in any creative field — on how they can grow their careers in small — but successful — ways.
1. DON'T WAIT
Birbiglia says, "Write. Make a short film. Go to an open mike. Take an improv class. There's no substitute for actually doing something. Don't talk about it anymore." In other words, instead of talking about doing something go ahead and start doing it.
2. FAIL
Everyone who starts at something fails at first. Even veterans in a particular discipline fail. Birbiglia may be a successful comedian and now filmmaker, but it took some time for him to get to that point. He explains, "The bedrock of all good pieces of writing is 10 bad drafts. Maybe 20. I wrote 12 drafts of Don't Think Twice, 14 drafts of my first movie, Sleepwalk With Me, and worked on my first one-man show for six years. My first five-minute set on Late Show With David Letterman in 2002 was mined from three hours of so-so material that I had tried and failed with for six years."
3. LEARN FROM THE FAILURE
After you fail — which is inevitable — you have to learn from what you did incorrectly. This includes listening to people who are critical of your work. Birbiglia points out, "I got a job working as a door person at the DC Improv comedy club in Washington … Around the same time, I was cast in my college improv group. So all at once, I met people whom I could bounce jokes and ideas off of. They'd give me candid feedback, and I tried to listen. I wasn't great at it at first. It's hard to hear criticism. But I've learned that harsh feedback, constructive feedback, even weird, random feedback, is all helpful, if you know the essence of what you're trying to convey." This included times when Birbiglia was workshopping his script. He explains, "With Don't Think Twice, I workshopped the script like the way I workshop my standup: I invited friends over to read it out loud in my living room and then fed them pizza. The pizza was excellent. The script often wasn't. So I'd get my friends all drunk on pizza and then ask them hard questions like: 'What do you like least about the script? Be honest. I can take it.' That's where I learned the most."
4. MAYBE QUIT
Birbiglia believes you might have to be honest with yourself — you're not cut out to do this professionally (in Don't Think Twice, several characters are forced to come to this conclusion). Though it might sound harsh, it's the best advice for people who don't want to put the work in to make it happen or simply don't have the raw talent to make it happen.
5. BE BOLD ENOUGH TO MAKE STUFF THAT'S SMALL BUT GREAT
Birbiglia reveals that he shot a sitcom pilot losely based on his life eight years ago — and he was devastated that it wasn't picked up. However, he eventually learned something important: "Failing to get that sitcom was the single greatest stroke of luck that's happened in my entire career. The show wasn't truly my comedic voice. It was watered down by network and studio notes to the point of being like dozens of other bland sitcoms."
Instead, he focused on do-it-yourself projects — writing, self-produced Off-Broadway shows, touring, and creating two films. Ironically, he's been offered roles in Hollywood productions because of his outside success, leaving Birbiglia to remark, "Leaving the system behind and creating something of your own may actually be thing that gets you into the system, hopefully on your own terms" (Birbiglia detailed this journey for us in his recent Daily Actor interview).
Birbiglia doesn't believe that success is measured by what the bigwigs think of your work. He notes, "Forget the gatekeepers. As far as I'm concerned, what you create in a 30-seat, hole-in-the-wall improv theater in Phoenix can be far more meaningful than a mediocre sitcom being half-watched by seven million people. America doesn't need more stuff. We need more great stuff. You could make that."
6. CLEVERNESS IS OVERRATED, AND HEART IS UNDERRATED
Finally, Birbiglia says that he believes the only thing you have to offer is yourself. If your heart isn't in your work, it really isn't your work, is it?
Regardless, it has worked for Birbiglia — and his little indie film, Don't Think Twice, has now grossed $2.4 million and counting.