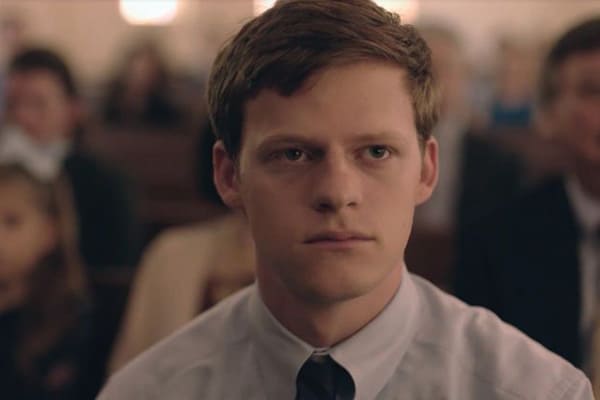 Crying on cue — for some actors it's an easy technique, for others its a struggle. For Lucas Hedges, who was nominated for an Oscar for his performance in Manchester by the Sea (which contains a memorable scene in which he breaks down in tears), crying for a scene is something he stresses about, but as he tells New Hampshire Public Radio it's something he's developed a technique for in his films.
When it comes to crying on camera, Hedges admits it's something that concerns him — however, he has discovered ways to make himself cry. He explains:
I always find it's the thing I stress out about most, but it's always on the day becomes – just – it just takes care of itself. I work a lot with music. And the interesting thing about my crying is what really makes me cry is the idea of triumph more than anything else, that overcoming something is what make – is what really gets me.

And one of my favorite bands is a band called Future Islands. And they've got this song called 'On The Water,' which, when I was in high school, was my favorite song. And I loved it so much because it – I felt when I listened to it like I was – suddenly, it was like overcoming everything that had held me down for however many years I felt really lost. And I found that I could cry when I listened to that song in a way that always felt uplifting. And it was something that could help get me to a place in these movies. But the second I start crying, the second I get to that place, then I can enter into the story and use it however I want. And then it kind of remains to be my internal experience, and yet, it appears as though it's – it fits with the character.
In particular, Hedges had a key scene in Lady Bird that involved crying in the arms of the title character, who is played by Saoirse Ronan. Hedges reveals that Ronan didn't know he was going to react like that — and neither did Hedges. He explains, "I didn't know either that I would. And if you watch the movie, it's a wide shot that it happens in. I think it was the second take. And I felt compelled in that direction. And I did it. It didn't feel right to do it again. And it wasn't there for the rest of that scene, which is why it's in the wide. It felt like it had been building up in me before we had started filming, and then that was the only take it came out on."