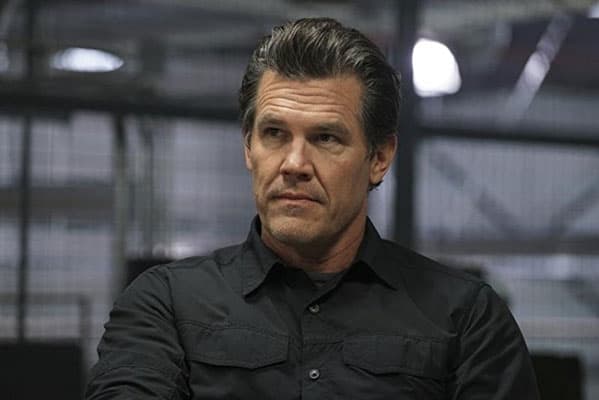 "You gather all of the information and look at it all, and panic, and then you start to slowly build this character." – Josh Brolin
Being that Josh Brolin is the son of acting star James Brolin, one might assume that the younger Brolin had a smooth path to Hollywood stardom. However, that is not the case — Brolin had spent many years in relative obscurity before achieving both critical and box office success. In an interview with Den of Geek, Brolin speaks about how he prepares for roles, the importance of creating, and separating himself from his characters.
Being that Brolin has played two Marvel Comics characters in movies this year, one might guess that the preparation was similar. Brolin goes further to say that all of his roles require the same preparation — especially the physical ones.
Every preparation is the same, in that I deal with it in the same way. Can I do this? Can I pull it off? What do I need to learn? What should I look at? How much should I use my imagination? How much do I have to stick to the comic book? That kind of stuff.

That kind of fear, and you gather all of the information and look at it all, and panic, and then you start to slowly build this character. The hairdo is very different in this, can we do that, well it looks better on my head. We know that there's going to be a certain amount of people who won't like it, but then again, if they like the character and we create a character they're able to invest in, they're not really going to care about the hair. There's that trust. You start to build something.

And then when you get into it, working out, not eating sugar, dieting, having eleven weeks to get into shape, to not use steroids, to do all that kind of stuff. I like all that kind of challenge. That's as much a physical challenge as it is a psychic or emotional challenge. Then, doing something like No Country, where I broke my clavicle right before I did it. Two weeks before, I snapped it in a motorcycle accident. That lent whatever it lent to the character.
While Brolin says that for the most part his roles don't bleed into his own life, he recalls finding it difficult to separate himself from a character on two occasions. He says:
The only time I ever truly really experienced that was W. When I played George W Bush. I didn't leave my house once, I didn't even go out to dinner once. I just didn't leave. I had him on near loop all the time. He was in my headphones all the time. I was always muttering something. I was so anti-social during that film that when I finished the film, for at least eight weeks after, I felt myself not completely able to remove myself. When I tell a joke I'd go 'okay so, guy walks into the room', and I'd see bits of him sneak him. And I didn't want it anymore!

Oh, and I did a play Pits And Joe, and that a little bit too. I went to a hospital and checked in as a guy with traumatic brain stem injury. I was in the hospital for quite a while, and five people in the hospital knew so I didn't get caught.
While as a teenager Brolin was one of the stars of 1985's The Goonies, his career as a leading man didn't take off until his critically acclaimed role in 2007's No Country for Old Men. Nonetheless, Brolin doesn't look back at the period between with dissatisfaction. Of those times, Brolin remembers:
That being said, somebody like myself, who wasn't discovered until his late 30s, early 40s. It doesn't matter. I was doing what I was doing. I was never bitter. I think the worst thing that can happen to a person is they become bitter for not being discovered. Because what is discovered? More money? More judgement? It can actually be awful. I've seen people be discovered, then they've disappeared within two years, and they're not doing anything creative anymore. Because they have this expectation around discovery and what that means.

I felt good about just being a working actor, and being able to live off what I was earning. But I watched my son go through it. He's an incredible artist, but he's never sold paintings. I know it's a struggle. I know the grass always appears greener on the other side, but if you're a creator, just create.