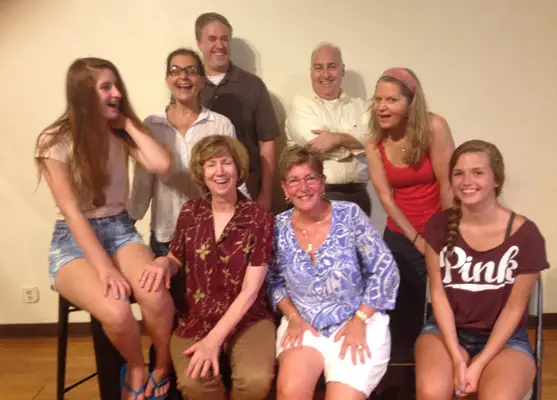 By Rianna Sookdeo
Actors alike know how much effort goes into preparing for an audition. The nerves, the late night rehearsals, the anticipation – all leading up to that one moment in time.
And most actors can relate to that moment when the audition ends faster than it began. Followed by second-doubts: what happened? What did I do wrong? Why was my chemistry off?
Yes – it was something you did and more than likely, it happened in the first 30-seconds, according to several seasoned directors.
Directors Michael Gellman, Scotty Watson, Gary Austin and David Razowsky have all worked, acted and directed many actors from Hollywood to Broadway.
The team is coming together in November to help local actors explore and expand their performing skills with the help of the nonprofit, Artistic New Directions.
While they were in New York, we spoke with them to uncover the most common mistakes they see actors make in auditions. The experienced directors all agreed that most actors relentlessly make the same ruinous mistakes in the audition room, usually within the first 30 seconds.
Here are some of the most common mistakes directors see actors make in auditions:
Shaking everyone's hand in the room – We know it's the polite thing to do in any other situation. However, you have to keep in mind that auditions often run all day and span hundreds of people. Wasting time on formalities is not ideal for any director. Smile, say hello, and keep it pushing.
Bringing your troubles to the audition – The cardinal rule of any job is to keep your personal and professional life separate. An audition is no place to vent your problems. The directors aren't there to help you cope with your bad day, so brush it off and give it your best.
Asking for permission –You choose the best way to showcase your talent in accordance with what the director is looking for. Yes, it's considerate to ask for approval but it's also wasting time. Do what you feel is best for your performance, unless specifically instructed so otherwise.
Wearing too much perfume to the audition or not bathing – Scent is a subliminal sense that can absolutely be the reason why you're not selected right off the bat. No smell is the best smell.
Coming to the audition dressed as the role– Keep the attention focused on your act, not your outfit. At the end of the day, you want to be remembered as the actor with the best performance… anything else is irrelevant. The less distractions, the better.
Forcing eye contact during audition performance – Directors have to look at more than just your eyes to completely evaluate your performance. If you really feel like you need to make contact, choose an inanimate focal point to direct your attention.
Asking too many questions – You're expected to be able to adapt to different scenarios. If asked to make adjustments, simply follow it. Firing back with questions automatically indicates that you can't take direction and in the entertainment business, that's never a good thing.
Lying on OR off your resume – Don't risk getting caught (chances are very likely) and ruining your reputation. Instead, talk up your qualifications that are relevant to the role to show your talents.
Doing what you think the director wants – Keep in mind that the director may not know what he wants until you show him. Your job is to show them what you can bring to the party and you may just hit the nail on the head, better than even the director's vision!
Being either too humble or untruthful – Know your worth. If the director compliments you, accept it. If he criticizes you, learn from it.
Aspiring and professional actors will have a chance to learn from these directors during a rare acting workshop taking place in New York City from November 19th– 21st. The acting workshop series is being sponsored by Artistic New Directions.
Gellman, Watson, Austin, and Razowsky will share their behind-the-scenes expertise and observations that can help any actor prepare for their future auditions with confidence. Those students attending will also get the rare opportunity for direct feedback of their acting and improv skills from these experienced directors.
Actors can also join them in their Free Improv Workshops on Wednesday evenings or audition to become apart of their cast for the Improvisational Theatre Intensive Performance for one weekend, November 19th – 21st. The intensive performance includes four shows done over four nights in a NYC theatre directed each night by one of these master directors.
About the Directors
Gellman has directed more than 22 shows across the US and Canada. He has directed, taught and acted with Tina Fey, Bill Murray, Gilda Radner, Chris Farley, Steve Carrell and others.
Watson has performed on the Late Show with David Letterman and acted with Ed Asner, Eric Stoltz and Gerard Depardieu. He is now the head of Artistic New Directions' New York Faculty.
Austin has taught and directed names like Lisa Kudrow and Helen Hunt and founded LA's The Groundlings. Currently, Austin develops shows around the country with his company, The Gary Austin Workshops.
Razowsky has taught and directed shows across the country, working with names like Steve Carell and Stephen Colbert. He presently continues to teach and direct around the country.