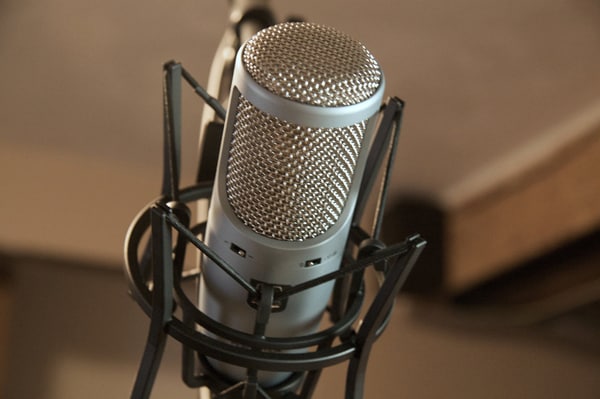 Written by Tanya Chopp, Content Marketing Manager at Voices.com
For many actors, the voice over industry is shrouded in mystery. It's obvious that successful voice actors tend to have a great voice. However, that is not the only thing that determines who's really going to make it in the business.
Many try to enter the profession, only to be quickly frustrated by rejection, or, worse, a lack of response to auditions all together. While seasoned actors tend to become accustomed to this, it doesn't make it any easier. What does make the road to success easier, though, is understanding how best to push through and use marketing industry best practices to net attention – and hopefully the gig.
Want to know where to start? A recent report from Voices.com illuminates the key activities the platform's most successful voice over actors do to build a successful voice acting career. Using a combination of internal data and survey responses from voice over actors and coaches around the world, the report, titled How to Become a Successful Voice Actor, dives into the artistic, technical and business practices that make an aspiring actor stand out.
Here's what you need to know about auditioning and marketing strategies.
Auditioning Strategies for Voice Acting Success
The amount of effort and time you invest into auditioning for voice over jobs will depend on where you are in your professional journey.
For many established voice actors, their time management strategy includes an equal division of time between working on jobs they've landed, and auditioning for more work – a 1:1 ratio recording auditions vs. recording jobs.
However, in order to build a business, beginner voice actors have to spend twice as much time recording auditions. This group's ratio is closer to a 2:1 division of time between auditioning and working on jobs they've won.
What this breakdown for beginners looks like in 'real time' is just under 10 hours a week spent on auditioning, and less than 5 hours a week recording jobs.
7 or More Daily Auditions Offer Magical Results
While the data doesn't speak for the industry on the whole, on Voices.com, internal data shows that voice actors who audition 7 or more times a day make close to $20,000 more per year than voice talent who audition less.
Professional Voice Actor, Anatol Silotch, whose past clients include Samsung, Canon, Merrill Lynch, F.C. Barcelona, and more, corroborates the finding. He describes his auditioning strategy:
"Most of my day is spent auditioning. A typical audition could run you 5 minutes, 10 minutes depending on what research or effort is needed to find out how you can deliver it as best as you can. It could be 20 auditions [or it]could be 50 auditions a day." – Anatol Silotch, Professional Voice Over Actor
Focus on Building Emotional Connection, Quickly
Voice actors who want to up the number of auditions they complete will be wise to remember that auditions typically don't need to be longer than 15-30 seconds (recorded). If a script is provided on the job description, make those first few seconds count. Most clients don't listen past the 10-second mark, so instead of wasting that time with slating, jump in. Your name and information is provided elsewhere when you respond to an audition online, and – besides meeting the vocal requirements of the job – what matters most is your ability to 'hook' the listener on an emotional level.
In fact, the statement, "The performance or vocal qualities connect emotionally with my audience," emerged as the top consideration in a Voices.com survey of those who hire voice talent, with 70% agreeing that this aspect of the audition was very important to their casting decision.
Marketing Efforts Important to Opening Up More Opportunity
While a great vocal performance can 'seal the deal,' having a solid marketing strategy can bring the opportunity through the door.
From referrals from other voice actors, to receiving invites to audition because of your past clients, here are the areas that successful voice actors say they continually invest time and effort into for their own marketing plans (yes, actors can have marketing plans for themselves!):
Online Branding and Presence
Voice Over Demos
Client and Voice Actor Referrals
Expanded Service Offerings
7 or More Demos Unlock More Earnings
Once again, 7 appears to be 'the magic number.'
Based on data, voice actors who have 7 or more different demos uploaded to their Voices.com profile experience:
290% increase in hire rate
312% increase in earnings
300% increase in being 'favorited' by listeners (clients often use a 'favoriting' feature when they want to shortlist demos as a way to stay organized and connected to voice actors whose voices they like – this is the case on any online casting platform)
Why is this the case? By recording and uploading a diverse set of very specifically segmented demos – for example commercial demo, narration demo, German demo, etc. – voice actors create an efficient way for potential clients to hear exactly and immediately what they are capable of.
Additionally, having online demos that are tagged with distinct attributes, such as language or vocal age, also helps voice actors appear in online searches conducted by clients. For instance, if you're a client who is eager to find a Spanish-speaking female voice actor who can read narration, your search query will likely contain some of those key words (e.g. Spanish, female, medical narration). If a voice actor has these skill sets, and has labeled her demos with these words, she stands a better chance of having her profile come up in an online search.
Successful voice actors are attuned to what they are most skilled at, and advertise as much to attract the work that's most lucrative for them and their talents.
Referrals and Client Testimonials Speak Volumes to Potential Clients
Approximately 85% of voice actors agree that publicly sharing client testimonials is important when growing their career. Additionally, approximately 50% of voice actors are likely to recommend someone else in their network, when they receive a job or audition request that's not right for them.
With those statistics in mind, if you're hoping to grow your voice acting business, it's clear that you would be wise to place effort into getting to know others who are in your field. You can network through classes, conferences, and online community boards, too, such as on Stage 32.
And don't be afraid to ask your happy clients if they'd be willing to provide you with a short testimonial. If this feels awkward, then the next time you receive positive feedback after a job well done, ask the client if they'd be comfortable with you using that goodwill sentiment as a testimonial.
Becoming a Successful Voice Actor is Within Your Grasp
When you work in an industry that requires an outside party to 'say yes,' it can be tempting to feel like you don't have much control over your own business. Don't fall into this trap. There are lots of strategies that you can be enacting in order to increase your chance of success and get to 'yes.'
From honing your craft through continuing education and learning to audition smart, to ensuring that you have the right tech and best demos possible, along with taking the time to explore the marketing techniques within your grasp, you can go a long way in this industry.
Voice acting is not just a 'job,' it's a career, and, as such, can take time and effort to develop. If you love what you're doing, and are committed to making it happen, achieving success is within your grasp.
About Voices.com: Founded in 2005, Voices.com is the largest global online marketplace for audio and voice over products and services comprised of more than half a million business clients and voice actors. Its flagship website, http://www.voices.com, records approximately two million unique visitors annually and has enabled over 300,000 transactions to date. Headquartered in London, Canada, the Company employs more than 120 people and has clients and voice talent in 160 countries.