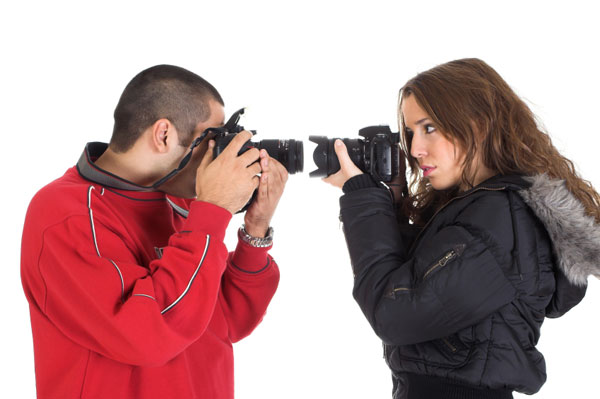 One of the most common questions professional photographers get is, "Can't I just take the pictures myself?" And while you could try, it is unlikely that your friend, with his smartphone, or even with his DSLR, is going to be able to provide you with the same quality of pictures that a professional with a great camera and a practiced eye is going to be able to give you.
And when talking about headshots, you should be extremely concerned about quality.
Casting directors and agents know the difference between professional headshots and those taken by an amateur. This is perhaps the most convincing reason not to ask your friend to be your headshot photographer: people will be able to tell the difference. Especially if you need headshots for a casting call, you will be putting these pictures in front of people that look at thousands and thousands of headshots. They know what it looks like when you have your pictures professionally taken and they know what it looks like when you ask your friend to take a couple pictures of you during golden hour. There's a huge difference and they are much more likely to favor the people who have professional pictures (and are therefore seen as more professional), than those who do not.
Your friend might be great at taking pictures of his or her food for Instagram, but headshots are an entirely different game. Framing, lighting, and editing are all going to be very important, and even if you are familiar with editing programs, you are not going to be able to replicate the years of experience with those programs, as well as the years of experience with taking photos that those people have.
It might be possible that your friend takes all right pictures of you that are functional for whatever small way you want to use them. It is much more likely, however, that those pictures are going to make you stand out in a bad way. They are going to look unprofessional, and especially if you are going up against real professionals who have paid for professional pictures, you are going to be the first person that the casting directors or recruiters cross off of their list.
Jack Saady is a photographer specializing in headshot photography. He realizes that when it comes to a headshot it is like putting yourself out there for everybody to see. Your career depends on it. Getting your personality to come through is probably one of the most important things to do, also one of the hardest. As a photographer he feels it is his responsibility to capture the essence of a person allowing potential casting directors to see what it is that makes you unique. We all know that the competition is fierce. His photographs are not about him or his style, but about his subjects and the unique qualities and conditions that define their lives at the time they are photographed. http://www.jacksaadyheadshots.com/