John Krasinski: Wanted for Murder! (On An Old Episode of "Law & Order: Criminal Intent")
If you've seen one episode of The Office, you know that light-hearted, fun-loving paper salesman Jim Halpert (played by John Krasinski) would never hurt a fly, unless that fly was named Dwight Schrute. As Moviefone notes, though, Krasinski portrayed a possibly-murderous high school basketball player on a 2004 episode of Law & Order: Criminal Intent before he hit it big as everybody's favorite card stock vendor.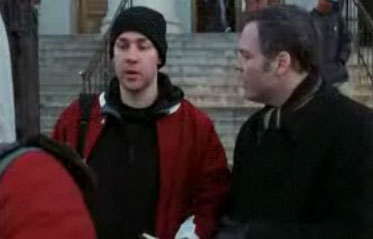 Since Krasinski is now so inextricably linked to his Office character, it's hard to believe the guy who married his sweetheart at Niagara Falls as a morally-questionable hoopster. In a clip from the episode, available after the jump, Krasinski's character starts a fight with a teammate after lying to police during a questioning.
However, Krasinski isn't the only actor to make a cameo as someone completely opposite from the roles that made them famous — in fact, the TV landscape is littered with them. To keep this Office-related, remember Amy Adams as Halpert's love interest in the show's early days? Or Breaking Bad star Bryan Cranston as a dentist on Seinfeld before his Malcolm in the Middle run?
http://www.dailyactor.com/wp-content/uploads/2016/08/imperium_daniele_radcliffe.jpg
Daniel Radcliffe on Playing a Neo-Nazi in 'Imperium': "It's still just horrible to say some of this stuff"
Radcliffe reveals how he played such a layered character and what it felt like to say his character's hate-filled dialogue.
http://www.dailyactor.com/film/daniel-radcliffe-playing-a-neo-nazi-imperium/
http://www.dailyactor.com/wp-content/uploads/2016/08/John-Cho-Star-Trek-Beyond.jpg
How John Cho Took A Stand for Diversity Early in His Career
"When one does speak one's mind, one might be surprised at how receptive people are." - Actor John Cho
http://www.dailyactor.com/film/john-cho-took-a-stand-for-diversity/
http://www.dailyactor.com/wp-content/uploads/2016/08/simon-helberg-florence-foster-jenkins.jpg
Simon Helberg on His 'Florence Foster Jenkins' Role: "I'm an actor and I want to stretch different muscles"
Helberg spoke about portraying his character in the film and whether or not he feels typecast by his Big Bang Theory role.
http://www.dailyactor.com/film/simon-helberg-florence-foster-jenkins-role/
http://www.dailyactor.com/wp-content/uploads/2016/08/Will-Chase-Something-Rotten.jpg
The Role That Got Away: Will Chase on Returning to 'Something Rotten!'
"I know that I am a poor man's fill-in-the-blank. And I know that there are poor man's Will Chases out there. That's just the nature of the business" - Will Chase
http://www.dailyactor.com/broadway-theater/will-chase-something-rotten-role-that-got-away/
http://www.dailyactor.com/wp-content/uploads/2016/08/Julia-Stiles-Jason-Bourne.jpg
Julia Stiles on the Jason Bourne Series and Growing as an Actress: "There's always room for improvement"
"I like a director that encourages me to be playful. I don't really like being restricted or controlled by a director." - Julia Stiles
http://www.dailyactor.com/film/julia-stiles-growing-as-an-actress/