Trailer: 'Your Sister's Sister' starring Emily Blunt, Rosemarie DeWitt & Mark Duplass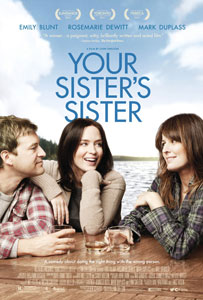 Mark Duplass is is on a role this year; writing and directing Jeff, Who Lives at Home and The Do-Deca Pentathalon and starring in Safety Not Guarenteed (my favorite film of the year so far), Darling Companion, People Like Us and now Your Sister's Sister.
Your Sister's Sister: Emily Blunt, Rosemarie Dewitt and Mark Duplass star in Your Sister's Sister, a new comedy about romance, grief and sibling rivalry. A year after his brother Tom's death, Jack (Duplass) is still struggling emotionally. When he makes ascene at a memorial party, Tom's best friend Iris (Blunt) offers up her family cabin on an island in the Pacific Northwest so Jack can seek catharsis in solitude. Once there, however, he runs into Iris' sister Hannah (Dewitt) who is reeling from the abrupt end of a seven-year relationship and finds solace in Tom's unexpected presence. A blurry evening of drinking concludes with an awkward sexual incident, made worse by Iris' sudden presence at the cabin the next morning. A twisted tale of ever-complicated relationships is set in motion with raw, hilarious and emotional performances from the all-star cast.
Writer/Director: Lynn Shelton
Cast: Emily Blunt, Rosemarie DeWitt, Mark Duplass, Mike Birbiglia
In Theaters: June 15th
http://www.dailyactor.com/wp-content/uploads/2015/09/Tom-Hardy-Legend.jpg
Tom Hardy on Playing Twins in 'Legend,' Being Seen as a Tough Guy, and Working with Philip Seymour Hoffman
Hardy speaks about why he challenged himself to play twins, what he thinks of his tough guy image, and working with the late Philip Seymour Hoffman, who directed him on stage.
http://www.dailyactor.com/actors-on-acting/tom-hardy-playing-twins-legend/
http://www.dailyactor.com/wp-content/uploads/2015/09/Emily-Blunt-Sicario.jpg
Emily Blunt on Action Movie Roles: "I think it's important to show different layers. Nobody is just tough, nobody is just vulnerable"
Emily Blunt touches upon why she has gotten into roles with an action bent and why she thinks there aren't more action movies with female leads
http://www.dailyactor.com/actors-on-acting/emily-blunt-sicario-acting-layers/
http://www.dailyactor.com/wp-content/uploads/2015/09/Jorja-Fox-CSI.jpg
Jorja Fox on Life After 'CSI': "I've always enjoyed not knowing exactly where the road leads"
"I think you kind of have to embrace the unknown if you're an actor." - Jorja Fox
http://www.dailyactor.com/actors-on-acting/jorja-fox-life-after-csi/
http://www.dailyactor.com/wp-content/uploads/2015/09/John-Turturro-Mia-Madre.jpg
John Turturro on the Life of an Actor: "It's a rough business. I wouldn't want my kids to do it"
"I am usually very well prepared. If you're a surgeon, you've got to know what you're going to take out today." - John Turturro
http://www.dailyactor.com/actors-on-acting/john-turturro-life-of-an-actor/
http://www.dailyactor.com/wp-content/uploads/2015/09/Matt-Damon-The-Martian.jpg
Matt Damon's Controversial Comments on Actors Keeping Their Real Lives a Mystery
"I think you're a better actor the less people know about you period. And sexuality is a huge part of that." - Matt Damon
http://www.dailyactor.com/actors-on-acting/matt-damon-actors-keeping-their-real-lives-a-mystery/