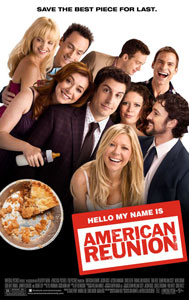 Here's a new red-band trailer, 5 clips and a featurette for American Reunion, which opens this weekend.
I loved the first one film – the 2nd, not so much. But, I think the cast works great together and they're like an old comfortable shoe that I can't wait to try on again.
American Reunion: It was summer 1999 when four small-town Michigan boys began a quest to lose their virginity. In the years that have passed, Jim and Michelle married while Kevin and Vicky said goodbye. Oz and Heather grew apart, but Finch still longs for Stifler's mom. Now these lifelong friends have come home as adults to reminisce about — and get inspired by — the hormonal teens they once were.
Director: Jon Hurwitz & Hayden Schlossberg
Cast: Jason Biggs, Alyson Hannigan, Chris Klein, Thomas Ian Nicholas, Tara Reid, Seann William Scott
In Theaters This Weekend
Michelle (Alyson Hannigan) laments her lack of sexy time
Oz (Chris Klein) runs into Heather (Mena Suvari)
Oz (Chris Klein) learns something new about his girlfriend Mia (Katrina Bowden)
Stiffler (Seann William Scott) has some advice for Jim (Jason Biggs)
Jim (Jason Biggs) tries to talk to his dad (Eugene Levy).
Featurette