You don't tug on Superman's cape.  You don't spit into the wind.  You don't pull the mask off that old Lone Ranger.  And if you're an actor, you definitely don't show up late to a meeting with Steven Spielberg.
English actor Benedict Cumberbatch has found himself in high demand, especially since he started appearing on Sherlock as the titular master detective in 2010.  Not only did he appear in two critically acclaimed films this year — Tinker, Tailor, Soldier, Spy and War Horse — and over the next two years he'll appear in The Hobbit films as the voice of the villainous Necromancer and the dragon Smaug and as the as-yet-unknown main villain in the next Star Trek film. 
But Cumberbatch almost jeopardized that bright future by showing up late to a meeting with Steven Spielberg, director of War Horse.
"I couldn't find a parking space and I couldn't put my motorbike in a parking bay around the corner," Cumberbatch tells the Belfast Telegraph– instantly scoring some major awesome points by driving a motorbike — "I thought I'd have to just walk in or I would be very late. But when I did, I was told the meeting was earlier, so I went in there going, 'Gosh, the first time I am meeting Spielberg and I'm apologising for being late!'"  Read more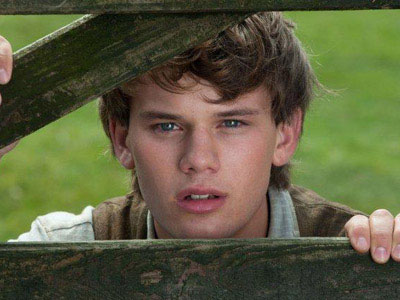 You'd think that for someone whose screen credits didn't extend beyond bit parts on the Disney Channel and who had recently played a tree on stage, a simple "You got the role!" would've sufficed, but for young British actor Jeremy Irvine, Steven Spielberg informed him he'd been cast in upcoming drama War Horse in a more creative fashion.
"Read this to camera, but don't turn it over until we say 'Action,'" Irvine was told at a callback for the role of Albert, a farm boy who tries to keep his horse alive during World War I. "Mr. Spielberg likes it to be spontaneous."
"Joey! Joey! Steven Spielberg wants me to play Albert in the feature film War Horse," read Irvine, who was just 20 when he was cast in the summer of 2010, before realizing the meaning of the words he'd just spoken.  Read more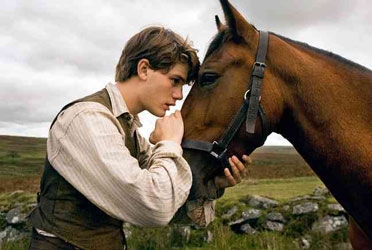 Here's 9 clips from Steven Spielberg's upcoming Oscar bait, War Horse.
I also added a 6 minute interview with Spielberg where he talks about the film, the cast and the challenges of making a movie about where the horse is the lead.
I wonder Joey the Horse didn't get a SAG nomination this morning? He deserved it!
The film stars newcomer Jeremy Irvine (this is his first big acting role), Emily Watson, David Thewlis and Tom Hiddleston.
The movie follows a young man named Albert (Irvine) who befriends a horse named Joey. When they are forcefully parted, the horse moves through the First World War, changing and inspiring the lives of all those he meets — British cavalry, German soldiers, and a French farmer and his granddaughter.
The film opens on December 25th.  Read more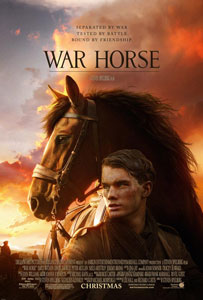 War Horse: DreamWorks Pictures' "War Horse," director Steven Spielberg's epic adventure, is a tale of loyalty, hope and tenacity set against a sweeping canvas of rural England and Europe during the First World War. "War Horse" begins with the remarkable friendship between a horse named Joey and a young man called Albert, who tames and trains him. When they are forcefully parted, the film follows the extraordinary journey of the horse as he moves through the war, changing and inspiring the lives of all those he meets–British cavalry, German soldiers, and a French farmer and his granddaughter–before the story reaches its emotional climax in the heart of No Man's Land. The First World War is experienced through the journey of this horse–an odyssey of joy and sorrow, passionate friendship and high adventure. "War Horse" is one of the great stories of friendship and war– a successful book, it was turned into a hugely successful international theatrical hit that is arriving on Broadway next year. It now comes to screen in an epic adaptation by one of the great directors in film history.
Director: Steven Spielberg
Cast: Emily Watson, David Thewlis, Peter Mullan, Niels Arestrup, Tom Hiddleston, Jeremy Irvine, Benedict Cumberbatch, Toby Kebbell
Writers: Richard Curtis, Lee Hall
In theaters: December 25th, 2011
Read more
The Book of Mormon and Anything Goes won 5 awards last night at the 2011 Drama Desk Awards; Mormon for Outstanding Musical and Anything Goes for Outstanding Revival of a Musical.
In the play categories, Outstanding Play went to War Horse and The Normal Heart won for Outstanding Revival of a Play (Yes! Best play I've seen in years).
In the acting categories, Anything Goes star Sutton Foster and Catch Me If You Can's Norbert Leo Butz brought home trophies for their work in musicals, while Bobby Cannavale (The Motherf**ker With the Hat) and Frances McDormand (Good People) won for Outstanding Actress and Actor in a Play.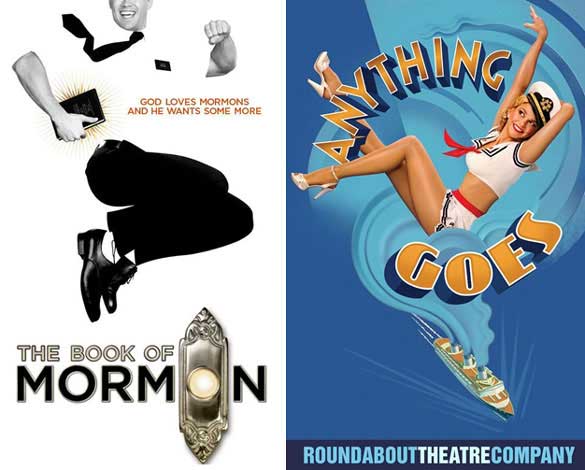 The complete list of winners are after the jump!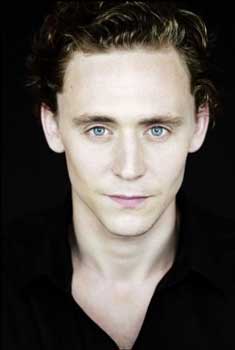 Tom Hiddleston is tearing up the screen as Loki in Thor and he recently talked to The Guardian about what it was like to see his face on a poster for a big-time film. "It's a wildly exciting time. I've never been in a film that has posters on the tube. And it's not even my face on the poster," he said. The poster shows Chris Hemsworth as Thor, the god of thunder, while Hiddleston plays his amoral brother Loki, the god of mischief. But the actor says,  director Kenneth Branagh originally had him in mind for the lead role.
"Ken found out he'd got the job in late 2008, when we were appearing at the Donmar together, knocking eight bells of ideological crap out of each other every night in Chekhov's Ivanov. Dressed as the self-righteous 19th-century doctor Lvov, with wire-rimmed spectacles, a pocket watch, grey trousers, a linen jacket and a goatee, I ran up to Ken's dressing room holding a massive empty water cooler that I pretended was Thor's hammer. He looked at me and said, 'Don't joke, love, you never know."
Hiddleston was in Los Angeles when he was asked to audition for the role of Thor. He knew a part as significant as this one could make him an international star, yet he insists he wasn't nervous. "I thought, well Ken knows what I can do. Every English-speaking actor over six foot was being seen for the part. I got down to the final few, which also included Chris's younger brother Liam Hemsworth, Alexander Skarsgård, and Charlie Hunnam."
Hiddleston was given six weeks to bulk up, before his audition. "I've inherited my father's lean Glaswegian genes, but I managed to put on three and a half stone in lean muscle. I ate nothing but chicken and just lifted and lifted weights till I could barely walk. Initially it was hard and then it got quite addictive. I outgrew my clothes and started to stand differently."