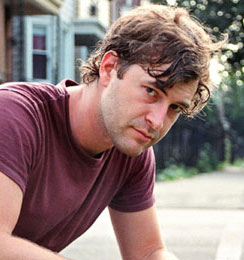 Mark Duplass has taken on the difficult role of Tom, a man dealing with the loss of his brother, in the new indie Your Sister's Sister. 
He spoke to Collider about the part, saying that he "wanted to do something different, as an actor.  I wanted to do something that was 50% different, in particular.  I didn't want to change it drastically.  To me, with this film, I play a character that I've played before, to a certain degree.  He's a down-on-his-luck everyman.  But, I also wanted to play someone who had just had something terrible happen to him, so there's this really dark emotional root to him.  This guy has just lost his brother.  It was the concept of, 'What would it feel like to make a movie that, at its core, is a Shakespearian bed-switching love triangle with hijinks and buffoonery, and all that stuff that Three's Company did so well, but with a real emotional core to it, and that comedy-drama blend?'" Read more
Actor Mark Duplass has a multitude of projects coming up in the next few months. Although he has been unknown to the masses previously, his new films are sure to get people to start paying attention.  His upcoming films include: Darling Companion, Safety Not Guaranteed, Your Sister's Sister, and People Like Us. 
In an interview with the Los Angeles Times, Duplass spoke about his position as a director, producer, writer, and actor in the indie film community.
He said, "I'm not a struggling artist anymore.  I can take my money and pay for my own movies and other people's movies.  But it's also, like, my closet is still full of hoodies.  So I'm trying to figure out who I am, and what this is.  It's an interesting moment."
Duplass first broke out on the scene with his film The Puffy Chair, which debuted at Sundance in 2005.  His connection to the festival remains today.  "I get offered pretty much every movie that's being made for under $100,000, because people believe I will get the movie into Sundance.  I get about 50 of those a week." Read more
Mark Duplass is a writer, director, producer and actor who first made a name for himself when he starred in, co-wrote, and co-directed a string of award-winning short films, including This Is John and Scrabble, which premiered at Sundance in 2003 and 2004, respectively.
He and his brother Jay also wrote and directed the 2005 Sundance breakout hit The Puffy Chair, which went on to win the Audience Award at SXSW 2005 and was nominated for two Independent Spirit Awards. The film was released theatrically by Roadside Attractions and Netflix in 2006. Baghead, their next feature film, was picked up by Sony Pictures Classics at Sundance 2008 and received an international theatrical release that year. Fox Searchlight recently released Mark and Jay's first studio feature, Cyrus, starring John C. Reilly, Jonah Hill and Marisa Tomei, which garnered rave reviews. Mark and Jay's next film is Paramount Vantage's Jeff Who Lives at Home, starring Jason Segal, Ed Helms, Susan Sarandon, and Judy Greer.
As an actor, Mark co-starred in The Puffy Chair, Joe Swanberg's 2007 Hannah Takes The Stairs from IFC Films, and 2009's breakout Sundance hit Humpday from Magnolia Pictures. Mark also appeared opposite Ben Stiller in Noah Baumbach's Greenberg, which Focus Features released in March 2010. Read more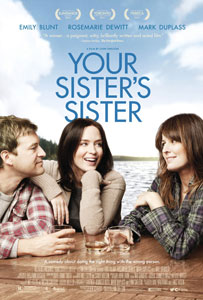 Mark Duplass is is on a role this year; writing and directing Jeff, Who Lives at Home and The Do-Deca Pentathalon and starring in Safety Not Guarenteed (my favorite film of the year so far), Darling Companion, People Like Us and now Your Sister's Sister.
Your Sister's Sister: Emily Blunt, Rosemarie Dewitt and Mark Duplass star in Your Sister's Sister, a new comedy about romance, grief and sibling rivalry. A year after his brother Tom's death, Jack (Duplass) is still struggling emotionally. When he makes ascene at a memorial party, Tom's best friend Iris (Blunt) offers up her family cabin on an island in the Pacific Northwest so Jack can seek catharsis in solitude. Once there, however, he runs into Iris' sister Hannah (Dewitt) who is reeling from the abrupt end of a seven-year relationship and finds solace in Tom's unexpected presence. A blurry evening of drinking concludes with an awkward sexual incident, made worse by Iris' sudden presence at the cabin the next morning. A twisted tale of ever-complicated relationships is set in motion with raw, hilarious and emotional performances from the all-star cast.
Writer/Director: Lynn Shelton
Cast: Emily Blunt, Rosemarie DeWitt, Mark Duplass, Mike Birbiglia
In Theaters: June 15th Read more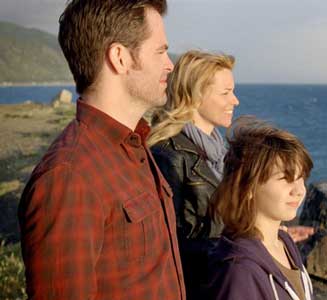 From DreamWorks Pictures comes People Like Us, a drama/comedy about family, inspired by true events, starring Chris Pine (Star Trek) as Sam, a twenty-something, fast-talking salesman, whose latest deal collapses on the day he learns that his father has suddenly died. Against his wishes, Sam is called home, where he must put his father's estate in order and reconnect with his estranged family. In the course of fulfilling his father's last wishes, Sam uncovers a startling secret that turns his entire world upside down: He has a 30-year-old sister Frankie whom he never knew about (Elizabeth Banks). As their relationship develops, Sam is forced to rethink everything he thought he knew about this family–and re-examine his own life choices in the process.
Director: Alex Kurtzman
Cast: Chris Pine, Elizabeth Banks, Olivia Wilde, Michael Hall D'Addario, Philip Baker Hall, Mark Duplass, Michelle Pfeiffer
Writers: Alex Kurtzman, Roberto Orci, Jody Lambert
In Theaters: June 29th Read more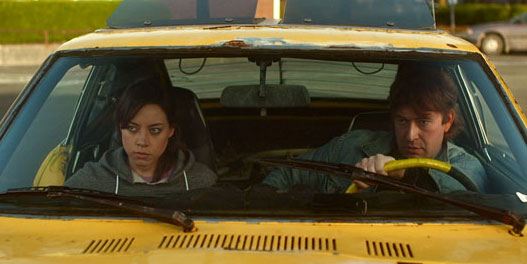 Safety Not Guaranteed was absolutely, hands down my favorite movie at SXSW.
Actually, I think it's my favorite movie of the year so far. I loved it and just watching this trailer makes me want to watch it again. Check it out below!
Safety Not Guaranteed: From the producers of Little Miss Sunshine – When an unusual classified ad inspires three cynical Seattle magazine employees to look for the story behind it, they discover a mysterious eccentric named Kenneth, a likable but paranoid supermarket clerk, who believes hes solved the riddle of time travel and intends to depart again soon. Together, they embark on a hilarious, smart, and unexpectedly heartfelt journey that reveals how far believing can take you.
Director: Colin Trevorrow
Cast: Aubrey Plaza, Mark Duplass, Jake Johnson, Karan Soni
Writers: Derek Connolly
In theaters: June 8th, 2012 Read more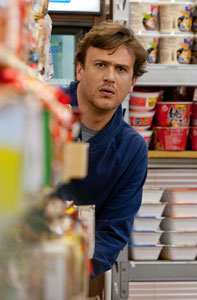 Jason Segel and Ed Helms star as brothers in the subdued comedy Jeff, Who Lives at Home, which coincidentally was written and directed by brothers Jay and Mark Duplass. Falling firmly in the Duplass' "mumblecore" style (who came up with that term, anyway?), Segel stars as 30 year-old Jeff, who as you might guess, still lives at home. 
The star of How I Met Your Mother and The Muppets explains what drew him to the low-budget movie, and what he thought about working with the Duplass brothers.
Segel has some praise for the Duplass brothers, who immediately won over him after their initial meeting.  He recalls, "I met Mark and Jay when they offered me this movie.  They came to me with the script and we had dinner – and they're two of  the nicest guys I've ever met.  There's a scene in the script that calls for this sort of action stunt.  And I wanted to do it for them.  It's not like you're working with some other director and you think, 'Hey, let a stuntman do it.'  For Mark and Jay, you want to do it for them." Read more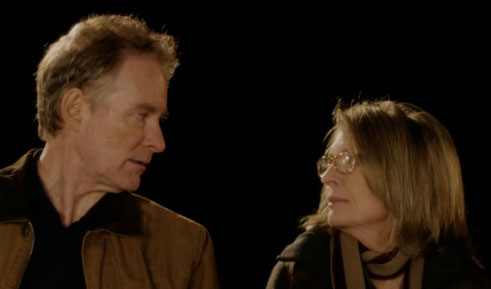 Darling Companion: Beth saves a bedraggled lost dog from the side of the freeway on a wintry day in Denver. Struggling with her distracted, self-involved husband Joseph and an empty nest at home, Beth forms a special bond with the rescued animal. When Joseph loses the dog after a wedding at their vacation home in the Rockies, the distraught Beth enlists the help of the few remaining guests and a mysterious young woman in a frantic search. Each member of the search party is affected by the adventure, which takes them in unexpected directions — comic, harrowing, sometimes deeply emotional and ultimately towards love.
Director: Lawrence Kasdan
Writers: Meg Kasdan, Lawrence Kasdan
Starring: Kevin Kline, Diane Keaton, Richard Jenkins, Elisabeth Moss, Mark Duplass, Dianne Wiest, Sam Shepard
In Theaters: April 20, 2012
Read more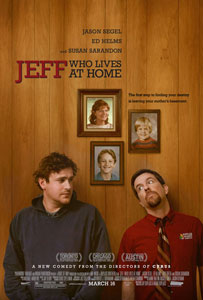 Jeff Who Live At Home: On his way to the store to buy wood glue, Jeff looks for signs from the universe to determine his path. However, a series of comedic and unexpected events leads him to cross paths with his family in the strangest of locations and circumstances. Jeff just may find the meaning of his life… and if he's lucky, pick up the wood glue as well.
Directors: Jay Duplass, Mark Duplass
Cast: Jason Segel, Ed Helms, Judy Greer, Susan Sarandon
In theaters: March 16th, 2012
Read more
Podcast: Play in new window | Download (Duration: 9:45 — 6.7MB)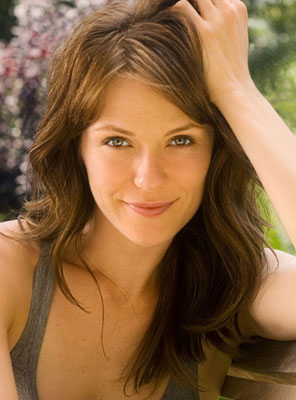 Like most actors, Katie Aselton, the star of FX's hilarious comedy, The League, loves her job. So, when the self-described "frustrated actor" got tired of leaving her fate up to others, she decided to do something about it.
Using her experience of working with her husband (director and actor Mark Duplass), she rounded up her friends and made her directorial debut with, The Freebie.
Katie also stars (alongside Dax Shepard) in the film about a couple who decide to give each other a 'free pass' in the hopes of saving their marriage. The film is a wonderful, intimate look at a relationship that you often don't see on-screen.
I talked with Katie about the all-improv film, her training, The League and more!
The Freebie is available now on DVD and Netflix!
For the full interview, click the audio link above or download from iTunes.
So, what made you decide to make this?
Katie Aselton: I'm a frustrated actor! And I just, I love what I do and I wanted the chance to get to do it. It's so frustrating to sit and feel like your fate is in someone else's hands and it was just like my head was  getting sore from beating it against the wall. And I happened to be married to an incredible do-it-yourself filmmaker, Mark Duplass, who was really done with me complaining about it. He was like, "You know how to do it.  Make your own stuff. Make it happen for yourself." And that's very easy to say and then much harder to do. But I did it. Once I got over that hurdle of, "I can make my own movie," cause the way technology is today, it's cheap enough to make a movie that looks alright. It was then just finding an idea that I really connected with and could see from start to finish and felt like I had an original way to tell it and that came with this idea. Once that happened, everything fell very easily into place.
I know this is all improv. Did you write an outline?
Katie:  Yeah. It sounds like it was this loosey-goosey thing but worked from a very detailed outline. It was an outline that had every scene and the arc of every scene. The only thing that wasn't written was the dialog. Because this is really just a two-person story and where I was playing one of the characters, it would've been very lop-sided if I wrote the dialog for both Annie and Darren.
I love to work this way. Its not necessarily the way I was trained but it's the way I really connect as an actor. I feel like you can really find those awesome, cool, true moments when you're just going on the fly.