Lea Michele's extraordinary voice is showcased each week in her starring role on FOX's Glee but is the songbird ready to trade in her signature solos for non-singing film roles? 
Despite the fact that she sings in the new film, New Year's Eve, Michele says she is ready to explore other opportunities in Hollywood.  In an interview with E! Online, Michele says, "I just felt that it was a perfect part for me to play for my first film.  To really transition from Glee…And from now on I might start to try to look into other things without singing to give my voice a break."
The part, a backup singer for Bon Jovi, was written specifically with her in mind.  Michele read the script without the mindset of finding another role to display her vocal talents, and she had no idea the part had been written for her.  She says, "I didn't really intend on doing a film where I sang.  I sing so much on my show that I sort of felt like maybe I would start looking into things that didn't involve me singing, but when I read the script, the songs were already in there—they didn't add them for me."  Read more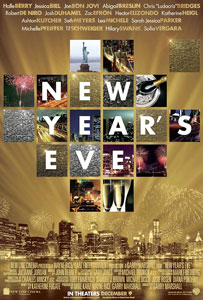 New Year's Eve: celebrates love, hope, forgiveness, second chances and fresh starts, in intertwining stories told amidst the pulse and promise of New York City on the most dazzling night of the year. courtesy of trailers.apple.com
Director: Garry Marshall
Cast: Halle Berry, Jessica Biel, Jon Bon Jovi, Abigail Breslin, Chris "Ludacris" Bridges, Robert De Niro, Josh Duhamel, Zac Efron, Hector Elizondo, Katherine Heigl, Ashton Kutcher, Seth Meyers, Lea Michele, Sarah Jessica Parker, Michelle Pfeiffer, Til Schweiger, Hilary Swank, Sofia Vergara

In theaters: December 9th, 2011
If Glee fans are afraid that Lea Michele might find a lull in her career after her run as Rachel Berry – have no fear. 
"I don't stop," Lea says. "It's my nature. People have to tell me to slow down. I plan on playing every role on Broadway. I want to do Evita. I want to do Sweeney Todd with [Glee costar] Chris Colfer. We want to do Wicked. I'll be Elphaba and he wants to play 'Guy-linda.' I want to do movies, make music. Glee is only the beginning."
And although she has encountered some difficulties over the course of her career, that began back in the late 90′s in Buster & Chauncey's Silent Night, the Bronx bred diva, who openly shares that she's only "five foot three," isn't letting anything or anyone hold her back. 
She may not "look like a lot of other people, you know what I mean? I look like I'm 12," but that won't stop here.  Nor will the managers that have told the twenty-four year old to "get a nose job," while others in the industry have stated that she's "not pretty enough." Read more
The only problem with doing a television show about high school kids is that most only take four years to finish the curriculum. Already pushing it with a 29-year-old and a 25-year-old playing high school seniors, Glee creator Ryan Murphy announced that stars Cory Monteith, Lea Michele and recent Emmy Nominee Chris Colfer will leave the cast after graduating from twelfth grade at the end of the Fox hit's third season.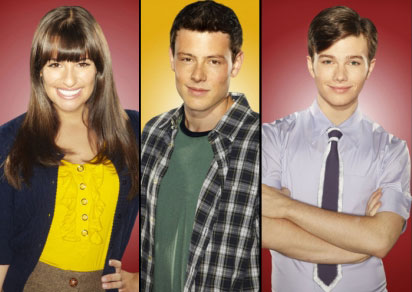 "You can keep them on the show for six years and people will criticize you for not being realistic, or you can be really true to life and say when they started the show they were very clearly sophomores and they should graduate at the end of their senior year," said Murphy.
The 29-year-old Monteith will portray Finn Hudson for one more season, while 25-year-old Lea Michele will finish up Rachel Berry's story line over the next 20 or so episodes. Colfer is one of the few Glee stars who's approximately the same age as his character — he'll be 21 when his Kurt Hummel graduates next year.
From theenevelope.com:
Who are your comedic influences?
I used to watch Gilda Radner, and I'd always be trying to imitate her when she'd do Roseanne Roseannadanna. I was a really spastic child. It helped that I come from a very colorful Italian family and a very colorful Jewish family, and they let me be as crazy as I wanted to be. I would sit in front of my mom and play Barbra Streisand or Fran Drescher on a talk show — and I'd play both the host and the guest. My mom always told me, "If you had different parents, your mother would be Natalie Wood and your father would be Jim Carrey." It's funny, though, I've never considered myself a comedic performer, ever. For so many years, I was in "Spring Awakening," where my character was beaten every night and then dies of an abortion.
In the vitamin D episode of "Glee," it looked like you got to let loose.
Oh, my God. I practiced talking manically for days. I kept thinking, How manic is the right amount of manic? What would Rachel be like on uppers? What would she sound like? It was insane. And then doing the "Halo" / "Walking on Sunshine" mash-up in that state? So much fun.
Do you find that there are any similarities between you and Rachel?
I draw a lot of inspiration from myself when I was very young. I was very much like Rachel when I was, like, 8 or 9. I always wanted to perform. Every Christmas video is me standing in front of my family singing "Santa Baby" and putting on a mini-concert for my whole family. But I do pull a lot from "Election." Also Leighton Meester's Blair Waldorf on "Gossip Girl."
Blair? How so?
She is shady, but you still love her. She's still vulnerable. That's what I try to do with Rachel. Rachel will never be popular because her looks aren't considered beautiful, and when I was in high school it was the same for me. I didn't get a nose job, and every single girl around me did. Therefore, I was out. I was not cool. What's so great about "Glee" is that it shows you how that kind of stuff hurts, but it doesn't matter: You can still be who you want to be. And in four years, high school will be over and all of that crap won't matter anyway.