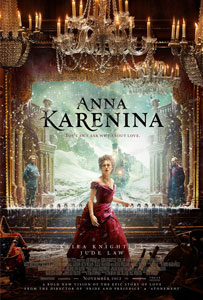 Anna Karenina: The third collaboration of Academy Award nominee Keira Knightley with acclaimed director Joe Wright, following the award-winning boxoffice successes "Pride & Prejudice" and "Atonement," is a bold, theatrical new vision of the epic story of love, adapted from Leo Tolstoy's timeless novel by Academy Award winner Tom Stoppard ("Shakespeare in Love"). The story powerfully explores the capacity for love that surges through the human heart. As Anna (Ms. Knightley) questions her happiness and marriage, change comes to all around her.
Director: Joe Wright
Cast: Keira Knightley, Jude Law, Aaron Taylor-Johnson, Kelly Macdonald, Matthew Macfadyen, Ruth Wilson, Domhnall Gleeson, Alicia Vikander, Olivia Williams, Emily Watson
Click here for the script to Anna Karenina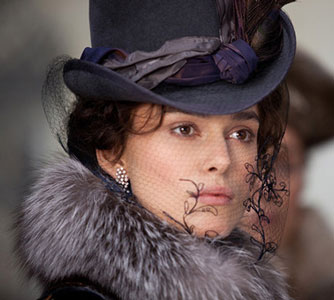 There's always risk involved when adapting a famous novel for the screen—especially when it's been done before.  But Keira Knightley insists the new version of Leo Tolstoy's Anna Karenina brings something new to the table, mainly the actress' own take on the role.
"I think within the pages of the book, it's so massively open to different interpretations anyway, and partly because he does write from inside her head, but often he doesn't.  Often he writes from outside, judging her and describing her," Knightley said in an interview with NBC New York.  "And I think because of that judgment and that description, it means that there are lots of different interpretations. 
"When I first read it when I was 19, I only remember her being innocent—I don't remember judging her at all; I don't remember seeing her as being in any way guilty.  And I read it again last year before we started shooting, and when I see this at 26 because I was, I suddenly see this differently." Read more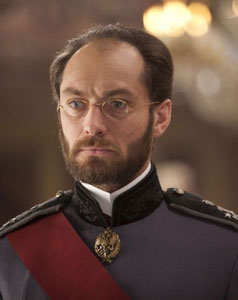 Jude Law was ready to take on a challenging part in the new adaptation of Tolstoy's Anna Karenina, in which he plays Karenina's husband, Karenin.
"[It was] intense, but in all the best ways.  It was territory I haven't really played in before, and characteristics I haven't really investigated, and these were really strong character traits," Law said in an interview with Moviefone.  "The stillness of him, the seriousness of him, the weight of his thoughts."
Law was also interested in the role because of the director, Joe Wright, who intertwines aspects of theater into the film.  This allowed Law to see the project as more than just another retread of the novel.  Read more
Just in time for Thanksgiving, comes the Red Dawn remake. The movie no one wanted or demanded stars Chris Hemsworth and Josh Hutcherson as a group of teenagers who save their small town from a North Korean invasion. If you want the real Red Dawn, catch it on Netflix. Wolverines!

Also opening this weekend are Life of Pi, Anna Karenina and Holy Motors. Read more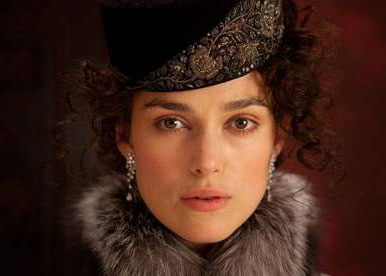 Keira Knightley, star of the new adaptation of Tolstoy's Anna Karenina, knew she wanted to be an actress from an early age.
"I've been acting since I was six," Knightley said in an interview with NY Daily News.  "My mum was an actor and a writer.  My dad was an actor.  It was a very intoxicating thing growing up around creatives like them.  My mum would be off acting somewhere, so I'd be backstage with my dad, doing homework, and he'd be onstage.  I always wanted to be part of that."
The actress broke through with her role in 2002's Bend It Like Beckham when she was 16.  She had already finished high school, and wanted to take tests to go to college.  "I was trying to balance school and work and found that I couldn't handle it," Knightley said.  "I had to admit defeat.  And I hate admitting defeat.  But I knew that the space for you in this business only comes around once.  You have to jump in when it's offered." Read more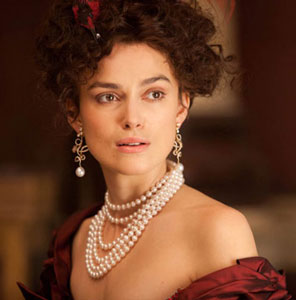 It might surprise you that Keira Knightley, who just won the role of the female lead in Paramount's new Jack Ryan film (opposite Chris Pine), used to suffer from anxiety while filming.
In other words, she had some serious stage fright.
To get rid of it, she started to do more work of the characters she played. That, and also acting on stage. She recently starred in The Children's Hour with Elizabeth Moss. 
The actress told Daily Mail that, "It's easier for me now, and even if I do freeze I know how to deal with it."
Audiences will get to see how convincing Oscar-nominee Knightley is when Anna Karenina is released November 16.