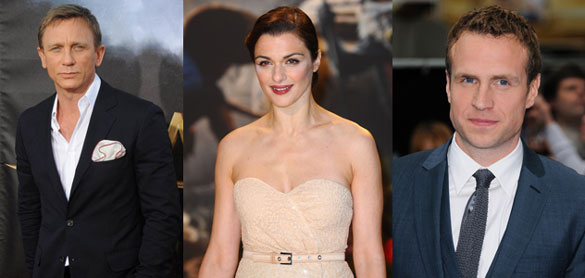 Daniel Craig, Rachel Weisz and Rafe Spall, will star on Broadway in Harold Pinter's Betrayal, directed by ten-time Tony Award-winner Mike Nichols.
Both Weisz and Spall will be making their Broadway debuts.
The show will begin performances on Tuesday, October 1st at the Barrymore Theatre (243 West 47th Street).  Opening night is Sunday, November 3rd.
It will run only 14 weeks, through January 5th, 2014. Read more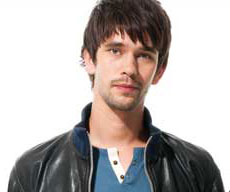 After appearing with Judi Dench in Skyfall, Ben Whishaw — who is James Bond's newest Q — is currently starring in London again alongside Dench in Peter and Alice, a play by Skyfall co-writer John Logan about the real-life inspirations behind the titular characters in JM Barrie's Peter Pan.  In an interview with The Guardian, Whishaw speaks about being unsure about his craft and advice he received from someone concerned about the mental health of actors.
Though the thirty-two year old Whishaw started acting as a teenager, when it comes to acting Whishaw confesses that he feels he hasn't quite figured it all out yet.  He says, "I always feel I am in the dark. You are never finished… it is not as if you can look back and think: ah… I know what I am talking about. You are only as good as your last job and are always struggling and striving and you never quite get to where you want to be…" Read more

What did you think of the Oscars last night? I liked them – first of all, they were a trillion times better than last years show. I don't remember laughing as much as I did this year. I thought Seth MacFarlane was a fine host. Was he great? No. But I didn't expect him to be. I went in with low expectations and he definitely exceeded them.
Overall, I thought it was a fun night. Totally didn't expect Ang Lee to win Best Director for Life of Pi or Argo for Best Film but that's why we watch, isn't it? And Ben Affleck's speech for Argo was the best of the night. Daniel Day-Lewis' speech for Best Actor was right behind him though.
Below are the list of winners.  Read more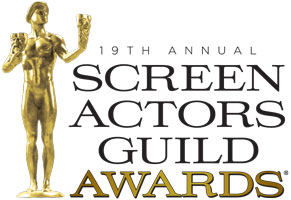 There weren't a lot of surprises at the SAG awards but of the awards presented, the only one that I thought was wrong was the Outstanding Performance by a Male in a Supporting Category given to Tommy Lee Jones for Lincoln.  I thought he was fine but was his performance better than Philip Seymour Hoffman's in The Master?
The actors honored with awards were Daniel Day-Lewis, Anne Hathaway, Jones and Jennifer Lawrence for performances in motion pictures and Alec Baldwin, Bryan Cranston, Kevin Costner, Claire Danes, Tina Fey and Julianne Moore for performances in television.
The Actor® for a motion picture cast performance went this year to Argo, while the Actors® for television drama and comedy ensemble performances went this year to Downton Abbey and Modern Family.
Check out the full list below.  Read more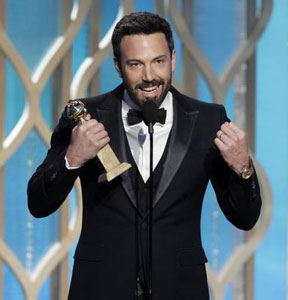 Ben Affleck's Argo took home one of the big prizes of the night, winning the Golden Globe for Best Motion Picture, Drama. Affleck himself nabbed the statue for Best Director, which I thought was great considering the snub he got from the Oscars. The other big prize, Best Motion Picture, Comedy or Musical went to Les Miserables. Duh. 
The big acting prizes went to Daniel Day-Lewis (Actor, Drama for Lincoln), Jessica Chastain (Actress, Drama for Zero Dark Thirty), Hugh Jackman (Actor, Comedy or Musical for Les Miserables), Jennifer Lawrence (Actress, Cmedy or Musical for Silver Linings Playbook), Anne Hathaway (Supporting Actress for Les Miserables) and Christoph Waltz (Supporting Actor for Django Unchained).
On the TV front, the actors taking home the gold were Damian Lewis (Actor, Drama Series for Homeland) and his co-star Claire Danes (Actress, Drama). Don Cheadle (Actor, Comedy or Musical for House of Lies), Lena Dunham (Actress, Comedy or Musical for Girls), Ed Harris (Supporting Actor, Mini-Series or Movie for Game Change), Maggie Smith (Supporting Actress, Mini-Series or Movie for Downton Abbey), Kevin Costner (Actor, Mini-Series or TV Movie for Hatfields & McCoys) and Julianne Moore (Actress, Mini-Series or TV Movie for Game Change).
The full list is below. Read more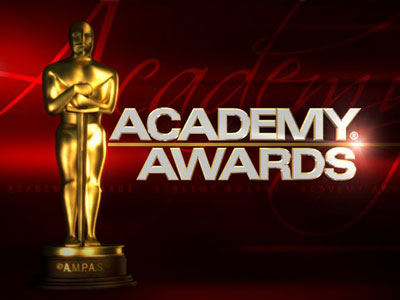 Lincoln cleaned up with 12 well deserved nominations this morning, including Best Picture. In all, 9 pictures were nominated for Best Picture: Beasts of the Southern Wild as well as Argo, Django Unchained, Les Miserables, Life of Pi, Silvers Linings Playbook and Zero Dark Thirty.
Check out the list below and take a look at Seth Macfarlane and Emma Stone giving the announcements. Read more
Appearing on Broadway for the first time in 30 years, Tony and Grammy Award-winner Bette Midler will play the legendary Hollywood agent Sue Mengers (who died in 2011) in a new, one-character play titled, I'll Eat You Last: A Chat With Sue Mengers.
The play, written by John Logan (who wrote James Bond's most recent outing, Skyfall), will be directed by the freaking super-talented Joe Mantello and is set to open on Wednesday, April 24 at a Shubert theatre to be announced.
Here's a brief history of Sue Mengers: She was the first female "superagent" at a time when women talent agents of any kind were almost unheard of. She came from near poverty, a refugee from Hitler's Germany, and worked her way up through pluck, charm, and a legendary wit. In that uniquely American way, she invented herself; and when the career she wanted didn't exist, she invented that as well: "Superagent." It was a term Hollywood all but coined for her. By the 1970′s, she represented almost every major star in Hollywood and went on to become the town's most renowned hostess. Read more
One of my all-time favorite shows is HBO's The Wire, David Simon's grim and gritty look at inner city Baltimore and Sonja Sohn, who played Detective Kima Greggs, was an integral part of that show.
Since The Wire ended, she's popped up on Brothers and Sisters, The Good Wife, was a series regular on ABC's Body of Proof was recently in a crucial role on USA's Burn Notice as Olivia Riley. Before I went on holiday break, I did a conference call with Sonja about her role on Burn Notice and she also talked about what draws her to certain roles and her advice to actors.
Check it out below! Read more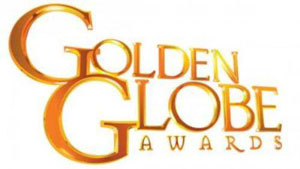 I was traveling to the East Coast most of the day and am now just getting to post this list of nominations.
Django Unchained and Argo both came away big with 5 nominations while Homeland received four in the TV Drama category.
Just quickly reading over it I saw that Salmon Fishing in the Yemen got a nomination for Best Motion Picture, Comedy. That came out this year? Feels like that was back in 2011.
I'm not a huge fan of the Globes, the actual awards, I mean. I do like watching the cerenomy, you can tell most people are there to have fun and drink. And this year with hosts Amy Poehler and Tina Fey, its bound to be great.
Check out the list below! Read more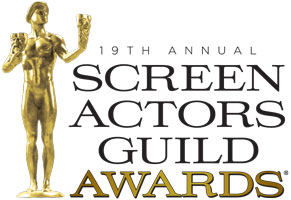 The nominees for the 19th Annual Screen Actors Guild Awards were announced early this morning by an energetic Busy Philipps (Cougar Town) and Taye Diggs (Private Practice).
The only WTF of the awards is that Christoph Waltz wasn't nominated in the Supporting Actor category for Django Unchained. Screeners weren't sent to the nominating committee because the film wasn't finished in time but I do know that it was screened. The committee should be ashamed of themselves because his performance 1,000 times better than Robert De Niro's for Silver Linings Playbook or Tommy Lee Jones for Lincoln.
The Screen Actors Guild Awards® will be simulcast live on TNT and TBS on Sunday, Jan. 27 at 8 p.m. (ET)/5 p.m. (PT).
The nominees are below.  Read more