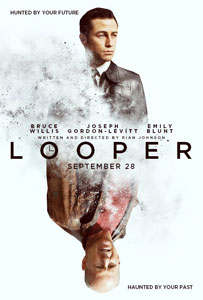 Looper: In the futuristic action thriller Looper, time travel will be invented – but it will be illegal and only available on the black market. When the mob wants to get rid of someone, they will send their target 30 years into the past, where a "looper" – a hired gun, like Joe (Joseph Gordon-Levitt) – is waiting to mop up. Joe is getting rich and life is good… until the day the mob decides to "close the loop," sending back Joe's future self (Bruce Willis) for assassination. The film is written and directed by Rian Johnson and also stars Emily Blunt, Paul Dano, and Jeff Daniels. Ram Bergman and James D. Stern produce.
Writer/Director: Rian Johnson
Cast: Bruce Willis, Joseph Gordon-Levitt, Emily Blunt, Paul Dano, Noah Segan, Piper Perabo, Jeff Daniels
Click here for the script to Looper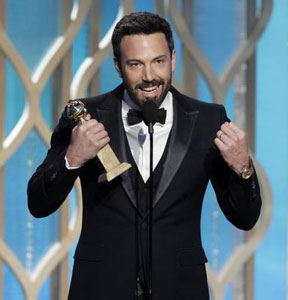 Ben Affleck's Argo took home one of the big prizes of the night, winning the Golden Globe for Best Motion Picture, Drama. Affleck himself nabbed the statue for Best Director, which I thought was great considering the snub he got from the Oscars. The other big prize, Best Motion Picture, Comedy or Musical went to Les Miserables. Duh. 
The big acting prizes went to Daniel Day-Lewis (Actor, Drama for Lincoln), Jessica Chastain (Actress, Drama for Zero Dark Thirty), Hugh Jackman (Actor, Comedy or Musical for Les Miserables), Jennifer Lawrence (Actress, Cmedy or Musical for Silver Linings Playbook), Anne Hathaway (Supporting Actress for Les Miserables) and Christoph Waltz (Supporting Actor for Django Unchained).
On the TV front, the actors taking home the gold were Damian Lewis (Actor, Drama Series for Homeland) and his co-star Claire Danes (Actress, Drama). Don Cheadle (Actor, Comedy or Musical for House of Lies), Lena Dunham (Actress, Comedy or Musical for Girls), Ed Harris (Supporting Actor, Mini-Series or Movie for Game Change), Maggie Smith (Supporting Actress, Mini-Series or Movie for Downton Abbey), Kevin Costner (Actor, Mini-Series or TV Movie for Hatfields & McCoys) and Julianne Moore (Actress, Mini-Series or TV Movie for Game Change).
The full list is below. Read more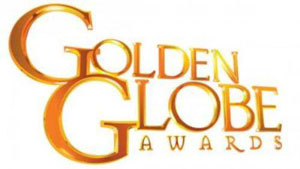 I was traveling to the East Coast most of the day and am now just getting to post this list of nominations.
Django Unchained and Argo both came away big with 5 nominations while Homeland received four in the TV Drama category.
Just quickly reading over it I saw that Salmon Fishing in the Yemen got a nomination for Best Motion Picture, Comedy. That came out this year? Feels like that was back in 2011.
I'm not a huge fan of the Globes, the actual awards, I mean. I do like watching the cerenomy, you can tell most people are there to have fun and drink. And this year with hosts Amy Poehler and Tina Fey, its bound to be great.
Check out the list below! Read more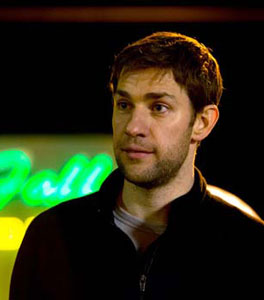 Though it'll be difficult, if not impossible, for John Krasinski to shake off the public perception of him as Jim from The Office (plus he'll have to get used to not mugging for a camera), Krasinski is certainly giving it a try as The Office wraps up its final season.  He not only stars with Matt Damon in the movie Promised Land, but he co-wrote the script with Damon.  He talks about how that project came together with USA Today and also touches on what the end of The Office means to him.
Krasinski explains that the pairing between him and Damon happened after the two met while Krasinski's wife, Emily Blunt, was starring with Damon in The Adjustment Bureau.  He says, "Matt was working on The Adjustment Bureau with Emily. We got to know each other and quickly became good friends. We did a whole lot of double-dating with Matt and (his wife) Lucy and we got along really well. Matt had mentioned that he wanted to direct and asked me if I was working on anything. I told him about this. And we started writing pretty much right away." Read more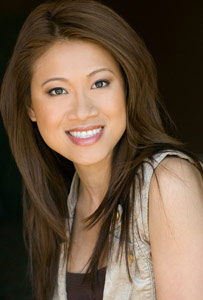 It's been some time since we have had an update on the lawsuit filed by actress Huang "Junie" Hoang against IMDb for posting her actual date of birth on the internet's most popular movie website.  Major parts of Hoang's case were dismissed back in April, including Hoang's charges of fraud and that Amazon.com (which is the owner of IMDb), her claim that IMDb violated the Washington Privacy Act, and, most significantly, Hoang's asking of $1 million in damages for lost work because of her age (the judge pointed out Hoang would have to produce witnesses to testify that they did not hire her specifically because of IMDb's revelation of her actual age, something that was very unlikely to happen).  Nonetheless, Hoang's claim that Amazon gleaned her true age from her private credit card information remained in the case.
But new developments might change all that.  According to The Hollywood Reporter, Hoang's original lawyer, John Dozier, passed away unexpectedly in August and her new lawyers, led by Keith Scully of the firm Newman Du Wors, have decided to take a different approach to the suit by broadening it, focusing on how the age information revealed on IMDb hurts the industry as a whole and continuing to question whether or not IMDb's staff commits any wrongdoing while probing for private information for its listings.  This would include calling industry professionals to the stand as witnesses to talk about ageism in the industry, with Gil Junger (director of 10 Things I Hate About You and dozens of television episodes) reportedly already agreeing to take the stand. Read more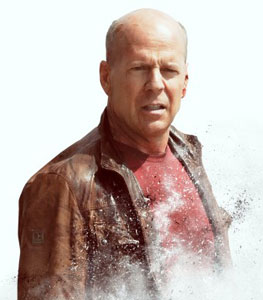 In Looper, Joseph Gordon-Levitt is only pretending to play the younger version of Bruce Willis, with Willis traveling back in time to confront his "younger self."  But if Willis could really go back in time, would he do anything differently?
Surprisingly, he tells Cheyboygan News that he thinks he actually make more mistakes.  He explains, "I would go back and make more mistakes, earlier than I made them.  I made a lot of mistakes early in my life, but if I had made more of them, I would have gotten to the answer to those mistakes earlier.  I have a lot of anxiety about making mistakes and hurting people's feelings. There were things I did as a brash kid that I wasn't paying any attention to – people whose feelings I hurt."  He then adds, "You know what I'm saying. I'd rather not hurt people anymore." Read more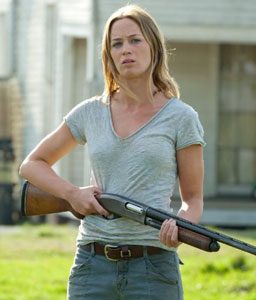 Emily Blunt is one of the many actresses working today that aren't satisfied by repeatedly starring as giggly girls in lighthearted comedies.  Following in the footsteps of her Devil Wears Prada co-star Meryl Streep, Blunt has taken on a variety of roles in many different genres, including a major role in Looper, a sci-fi movie starring Joseph Gordon-Levitt and Bruce Willis. 
Blunt spoke to NBC New York about her role in the sci-fi film and what convinced her to star in a film in this genre.
Blunt reveals that she was immediately drawn to the project after reading only a few pages of the script by writer/director Rian Johnson.  She says, "It's like a singular voice that he has. My agent sent me the script and luckily we got in quite early with it. I read the first 20 pages and then called my agent and said you've got to get me in the room with this guy. Then my agent asked what I thought of my character and I hadn't even got to her yet." Read more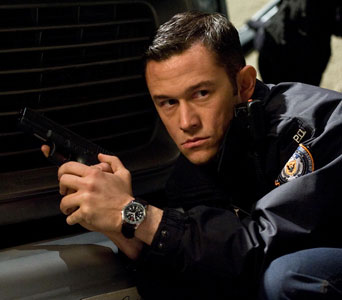 You just can't predict show business.  I would have never thought that the goofy long-haired kid from 3rd Rock from the Sun would grow into one of the more impressive actors of the last several years, but Joseph Gordon-Levitt constantly brings it to every film role he has.  He obviously caught the eye of director Christopher Nolan, who cast Gordon-Levitt in a key role in The Dark Knight Rises after first working with the actor in his prior film, Inception. 
In an interview with Reuters, Gordon-Levitt elaborates on what draws him to the projects he stars in and how he has tried to give back to less fortunate artists.
Gordon-Levitt points out that one of the more impressive aspects of the Dark Knight trilogy is that it actually is a trilogy.  He explains, "Sometimes they call something a trilogy, and it's not really a trilogy, it's another sequel to make money. But this really is a great ending, there's a beginning, a middle and an end." Read more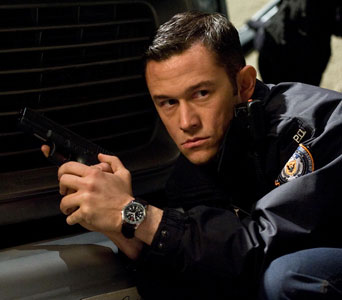 Joseph Gordon-Levitt is one of today's busiest actors and has also been showcasing his talents behind the camera.
Following The Dark Knight Rises, he stars in three more films due out this year: the thriller Premium Rush, for writer/director David Koepp; Rian Johnson's sci-fi thriller Looper, which he stars in with Emily Blunt and Bruce Willis and also executive produced; and the Steven Spielberg-directed biopic Lincoln, playing Robert Todd Lincoln. In addition, Gordon-Levitt is currently making his feature film directorial debut on the comedy Don Jon's Addiction, which he also wrote and stars in with Scarlett Johansson and Julianne Moore.
Gordon-Levitt recently earned his second Golden Globe nomination in the category of Best Actor in a Motion Picture – Comedy or Musical for his performance in the comedy/drama 50/50, in which he starred with Seth Rogen, Anna Kendrick and Bryce Dallas Howard. He previously garnered Golden Globe and Independent Spirit Award nominations for his work in the award-winning sleeper hit (500) Days of Summer, opposite Zooey Deschanel. Read more
Comic-Con 2012: Here is the full panel for Rian Johnson's upcoming film, Looper.  I've been looking forward to this for a while and all the footage they showed in Hall H looked pretty damn great.
Appearing on the panel were the films stars, Joseph Gordon-Levitt and Emily Blunt alongside director Johnson.
Check it out below! Read more