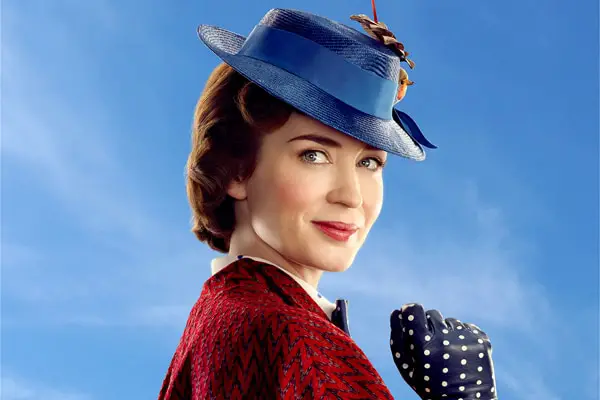 "I think that has been my main focus, is just to approach her calmly, as I would any other character, how I would play her, with what I have given on the page?" – Emily Blunt
Few films have reached "universally beloved" status like Disney's Mary Poppins, which has enchanted generations of children. After Disney initially announced that it would be making a sequel, Mary Poppins Returns, many have been skeptical that the studio could recapture that magic again. The one thing at least that everyone seems to agree on is that if anyone can live up to Julie Andrews' performance as Poppins, Emily Blunt is the right actress for the job.
In an interview with Screen Rant, Blunt spoke about the most daunting aspect of playing the magical nanny, working with Mary Poppins Returns director Rob Marshall, and singing songs from the original film.
On the prospect of whether stepping into an iconic role like that of Mary Poppins is intimidating, Blunt says it is and points to the dancing as the most difficult part of the role. She explains, "I feel that I just try to approach her as I would any other character and not be caught up in the white noise of, 'Oh my God, you are Mary Poppins.' I think that has been my main focus, is just to approach her calmly, as I would any other character, how I would play her, with what I have given on the page? I have not watched the originals since I saw it as a child, cause I… no one is going to outdo Julie Andrews. I think I just want to… this is just going to be my version of her. The dancing has been the most daunting prospect for me."
Director Rob Marshall and Blunt had previously worked together on the musical Into the Woods, and Blunt says that she enjoys working for him even though he has high expectations. She explains, "He is meticulous about the details and I just love working with him, because he just digs for golds every day. So he expects a lot of you and that comes from singing, the acting, the dancing, because he doesn't miss anything. So you do feel in such safe hands with him, in the same way he approaches me as an actor, he approaches me as a dancer now. He just, he wants it to feel like a confident exciting experience and he wants to feel characterful, as opposed to perfect. He has depth to him and I just loved every second, I find him the most elegant, wonderful person to be around."
While Blunt isn't the first person to play Poppins, the film features original songs — meaning Blunt will be the first to sing songs that could potentially be new Disney favorites. On that, she says, "I mean to be the person to be first on some of these songs, it has been such a huge honor really. I think I felt less pressure approaching it in this way, then I would be doing an adaptation of something that has been done before, because it is not comparative. You've only got songs that have actually been written for me, catered to me, and what my ability is, so in that way it has felt like an incredibly collaborative experience and one that I was invited into. But I think that these songs, even though you haven't heard them before, there is something about the music that seems familiar, and I think that is always a sign of a great song, if you feel like I've heard this, and you realize you haven't but it's just that good that it strikes a chord in you."