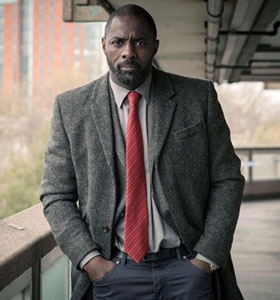 British actor Idris Elba is having a year that many actors would envy. With Pacific Rim already released, he has the third installment of the miniseries Luther on BBC America debuting in September and the two upcoming films, Mandela: Long Walk to Freedom and Thor: The Dark World, coming soon.
He recently spoke to reporters during a conference call promoting his upcoming BBC America appearance. Elba talked about juggling a variety of projects over the last year.
The Brit shared, "When I'm shooting all of this, it's all out of sequence by the time it all comes out, so this year looks incredibly busy for me because they're all coming out at the same time." Read more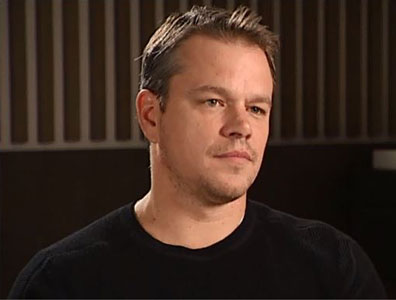 Matt Damon is one of his generation's most respected actors from his Oscar-winning script for Good Will Hunting to his most recent role in Elysium. On a promotional trip to Australia, he spoke with the Australian Broadcasting Corporation about working with Hollywood legends and what his future plans are in the entertainment business.
Damon has been fortunate enough to work with incredible actors like Robert Duvall, Robert De Niro and Gene Hackman throughout his career. He shared some great advice he got from Tom Hanks about working with scions of the industry while on the set of Saving Private Ryan. Read more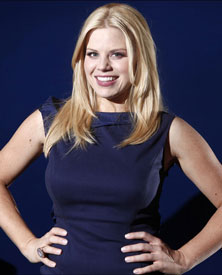 In the end, Smash is, at best, an imperfect television series.  It took an interesting industry — the behind-the-scenes creation of Broadway productions — and incredibly talented singers, like Megan Hilty, yet somehow failed to make it interesting to general audiences or even Broadway diehards.  That is the main reason why Smash is wrapping up its run at the end of this season (only the show's second).  Hilty, who played the often mean Broadway hopeful Ivy Lynn, spoke to iDesign about the end of the series
Hilty expresses hope that fans of the show will be satisfied by the series finale — though it wasn't entirely written that way.  She says, "We have the greatest fans of the show and they're very, very loyal, but I hope that the season finale is satisfying for people.  I feel like it will be because they kind wrote it just in case it didn't get renewed, that it would wrap everything up. I think people will be pleased with it. It won't be like 'what would have happened?'" Read more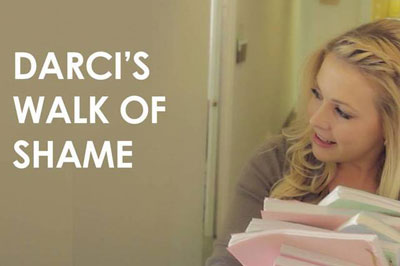 There has been some debate over whether or not Kickstarter should be used to fund projects by creators who probably have the means — or at least access to the means — to fund the project themselves.  This debate flared after fans ponied up the cash to fund a Veronica Mars movie and Zach Braff's next film in fractions of the allotted time.  Some claim this is a revolutionary way to finance movies, while others say it's akin to a celebrity exploiting his or her fanbase.
Regardless of which side of the debate you fall on, many filmmakers are getting in the Kickstarter act to raise money for their projects.  However, not all of them are as successful as Zach Braff.  Take Melissa Joan Hart, for instance.  Read more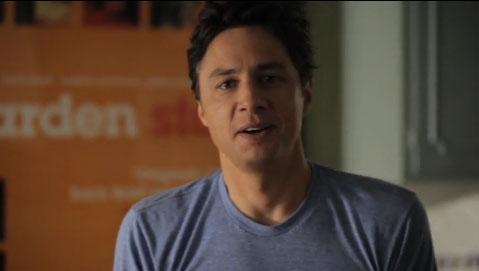 The team behind Veronica Mars won't be the only filmmakers using Kickstarter to fund their movies.  Zach Braff announced that he's hoping to raise $2 million to make his film Wish I Was Here.  Braff's decision came out of his frustration with having to hand over artistic decisions to studios or financiers. 
"I tried to make a couple of films within the studio system and also with traditional independent financing," Braff said in an interview with The Hollywood Reporter.  "I always hit roadblocks, whether it was having to cast a certain person or having to retain final cut with the success of Garden State.  With this movie, I'm so passionate about this movie I was really about to sign on the dotted line with a traditional financing arrangement, and it's been ten years, God I want to make a movie more than anything.  I'll do whatever you want, I'll give away final cut, I'll put your brother in it, whatever." Read more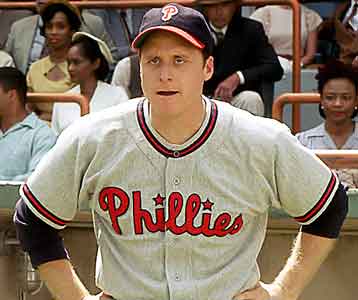 In a movie that deals with racial prejudice like 42, naturally the roles most people would want to play are the characters who overcome racism, like Jackie Robinson (portrayed by Chadwick Boseman) and Branch Rickey (portrayed by Harrison Ford).  But there has to be an actor willing to portray the deeply racist individuals who put up the barriers that the hero has to tear down.  In 42, Alan Tudyk portrays Ben Chapman, the late 1940s manager of the Philadelphia Phillies who strongly opposed Jackie Robinson, the first African-American in the major leagues, on the basis of his race. 
He spoke to Hollywood & Fine about how he managed to pull off a character so despicable by modern standards.
Tudyk admits that delivering the lines made him uncomfortable, and the feeling stuck with him like a bad hangover.  He describes it as, "It was like I got wasted at a bad party. It would leave a stain on your mood, and put you into a bad mood into the next day."  One obstacle he faced in his performance was overcoming his own views with those filled with hate.  He says, "It was hard to get past my own feelings.  I had to get past that actor feeling of being someone sensitive and liberal, who's not used to fighting." Read more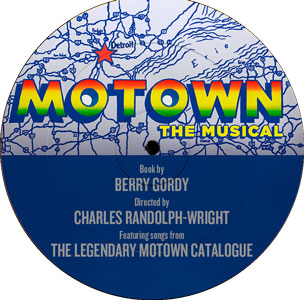 Motown is invading Broadway.
Producers Kevin McCollum, Doug Morris and Berry Gordy announced yesterday that Motown: The Musical, based on the life of Motown founder Gordy, will open on Broadway at The Lunt-Fontanne Theatre on April 14, 2013.  Preview performances will begin March 11, 2013.
As far as casting, Tony Award® nominee Brandon Victor Dixon and Valisia LeKae have been cast in the leading roles of Berry Gordy and Diana Ross. Additional casting will be announced shortly.
Brandon Victor Dixon received a Tony Award® nomination for his performance in The Color Purple on Broadway and received a Drama Desk Award nomination for The Scottsboro Boys Off-Broadway. Read more
Idris Elba had to endure some odd security issues while he was preparing for Ridley Scott's much-anticipated sci-flick Prometheus. 
"They sent a security guard, policeman type person on a plane with the script to my house in London.  They gave me the script and sat outside while I read it, and then they took it back," he told Collider. 
The entire process had been surreal for the actor known for his role on BBC's Luther.  "I got a phone call from my agent saying, 'You'll never guess who's on the phone.'  I was like, 'Who?" and they were like, 'It's Ridley Scott.'  And then, he got on the phone and said, 'Idris, hello mate.  How are you?  I'm sending you a script.'"  Read more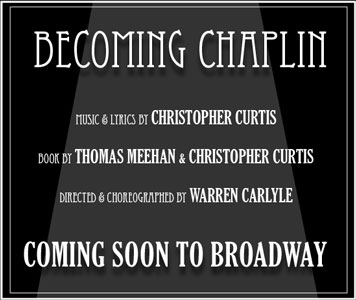 Becoming Chaplin, a new musical depicting the life of film icon Charlie Chaplin, will open on Broadway in the 2012-2013 season.
The show will be directed and choreographed by Warren Carlyle (Finian's Rainbow, Hugh Jackman, Back on Broadway) with music and lyrics by Christopher Curtis and book by three-time Tony Award-winner Thomas Meehan (Annie, The Producers, Hairspray) and Curtis.
Under the name, Limelight, the show had a run at the La Jolla Playhouse during its 2010/2011 season. I saw the show and loved it. Even though casting has not been announced, I really do hope the star of that run, Rob McClure, is involved in it. He was terrific. (Check out my interview with Rob here).  Read more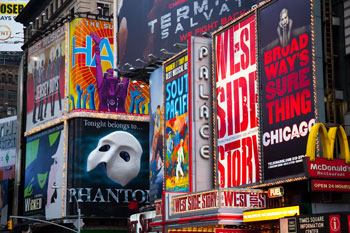 Broadway has had good years and bad, and big hits and misses — especially over the last decade.  But what about twenty years from now?  How will the centuries-old traditions of theater on the Great White Way be different in 2032?
At Monday's inaugural TEDxBroadway conference at New World Stages, Broadway professionals, including producers, marketers, entrepreneurs, economists and artists, will meet to discuss the future of New York's famed Theatre District.  About a dozen speakers will gather to present their views on what Broadway is doing — and what it must do — to ensure long-term success.
The first speaker, is Ken Davenport, a writer, director, producer, and co-organizer of the conference.  He points out Broadway has come a long way in the last twenty years.  "Before you think about where you're going, you have to know about where you've been.  I remember riding my bike through 42nd Street and seeing a crack addict lying on the ground.  When you think of where it was 20 years ago, then you have to think that major things could happen over the next 20 years."  Read more