Robin Wright's Approach to Aging in Hollywood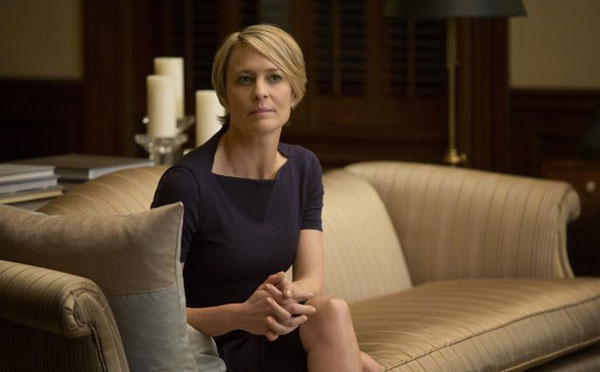 Robin Wright is someone who has always done Hollywood her own way. In the June/July issue of Town & Country, the 48-year-old actress explained why she forged her own path versus following a stereotypical starlet career.
She said, "Hollywood is difficult to navigate if you have integrity. So I opted not to work if there wasn't enough to do in a role, which doesn't have to do with the role's size. If there's nothing for me to do as an actress, that's frustrating…I'd rather go work at a menial labor job, where I can actually get my hands dirty."
Wright almost passed on Netflix's original series, House of Cards, but it was producer David Fincher who convinced her to take the role.
"David assured me that this would be a collaboration, that I could help create the character as we went along, that we would make discoveries together," she shared.
The Netflix star also took on the challenge of directing the 10th episode this season. It intrigued her enough that she stated, "I honestly don't want to act anymore."
Wright also rebels agains Hollywood's notion that youth is king even though there is pressure to go under the knife.
She summed up, "In Hollywood the pressure's there. You better lift that face and pump those lips and hike those boobs! And I was like, 'I don't want to do that. I'm going to get older. I'm going to have wrinkles."
A refreshing approach to Tinseltown.
http://www.dailyactor.com/wp-content/uploads/2016/08/imperium_daniele_radcliffe.jpg
Daniel Radcliffe on Playing a Neo-Nazi in 'Imperium': "It's still just horrible to say some of this stuff"
Radcliffe reveals how he played such a layered character and what it felt like to say his character's hate-filled dialogue.
http://www.dailyactor.com/film/daniel-radcliffe-playing-a-neo-nazi-imperium/
http://www.dailyactor.com/wp-content/uploads/2016/08/John-Cho-Star-Trek-Beyond.jpg
How John Cho Took A Stand for Diversity Early in His Career
"When one does speak one's mind, one might be surprised at how receptive people are." - Actor John Cho
http://www.dailyactor.com/film/john-cho-took-a-stand-for-diversity/
http://www.dailyactor.com/wp-content/uploads/2016/08/simon-helberg-florence-foster-jenkins.jpg
Simon Helberg on His 'Florence Foster Jenkins' Role: "I'm an actor and I want to stretch different muscles"
Helberg spoke about portraying his character in the film and whether or not he feels typecast by his Big Bang Theory role.
http://www.dailyactor.com/film/simon-helberg-florence-foster-jenkins-role/
http://www.dailyactor.com/wp-content/uploads/2016/08/Will-Chase-Something-Rotten.jpg
The Role That Got Away: Will Chase on Returning to 'Something Rotten!'
"I know that I am a poor man's fill-in-the-blank. And I know that there are poor man's Will Chases out there. That's just the nature of the business" - Will Chase
http://www.dailyactor.com/broadway-theater/will-chase-something-rotten-role-that-got-away/
http://www.dailyactor.com/wp-content/uploads/2016/08/Julia-Stiles-Jason-Bourne.jpg
Julia Stiles on the Jason Bourne Series and Growing as an Actress: "There's always room for improvement"
"I like a director that encourages me to be playful. I don't really like being restricted or controlled by a director." - Julia Stiles
http://www.dailyactor.com/film/julia-stiles-growing-as-an-actress/