Kristen Stewart Says Goodbye to 'Twilight' and Hello to More Adult Roles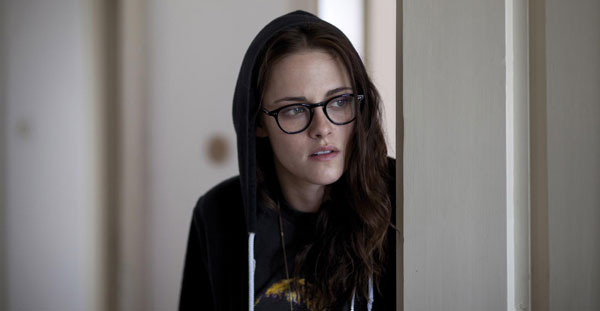 Kristen Stewart is ready to say goodbye to Twilight. In order to do so, she's had to be selective about the films she chooses. Her latest, Clouds of Sils Maria, premiered at the Cannes Film Festival in May.
In the movie, Stewart plays the personal assistant with an older actress who is dealing with aging in Hollywood. The 24-year-old stars alongside Juliette Binoche and Chloe Grace Moretz.
She talked about why she picked the project, "It happened to be the perfect project, timing-wise. Just my experience with my career, how it's gone – you know, Twilight blew up – I'm extremely famous. It's interesting for me to play an actress' assistant who then comments on that world and how it works and how superficial it can be."
That superficiality sometimes carries into her real-life career. The On the Road star shared what it means to her, "You know, to make a movie is so ridiculous. We're going to go film each other pretending to be other people so other people can watch us pretending to be other people? It's insane. But if it's worth it and it's saying something … it can be transcendentally important."
Stewart would prefer to keep her work onscreen, but she knows how tough the paparazzi has been on her personal life.
"I don't do what I do to … control perception or make people think a certain way about me. That would be traipsing all over the experience of making any film," she said. "It's just so ass-backwards to me. I don't know how people do that. I don't know how people tactfully traverse their careers. I don't know how they choose, 'Well, this is a different side of me people have not seen and so I will present that to them now.' It's like, 'Why are you doing this for other people? You should be doing it for yourself.' And so I've functioned from that position since I started, and therefore I really don't care about all that."
The former child actor keeps plugging away despite the attention because she know exactly what she wants out of life.
Stewart summed up, "I want to make movies one day, like absolutely I want to direct movies."
Via Reuters
http://www.dailyactor.com/wp-content/uploads/2015/10/Bridge-of-Spies-Tom-Hanks-Mark-Rylance.jpg
Tom Hanks on Working with Steven Spielberg and Mark Rylance in 'Bridge of Spies'
"Steven does this incredible thing when he casts you: He empowers you with the scene." - Tom Hanks on Steven Spielberg
http://www.dailyactor.com/actors-on-acting/tom-hanks-working-steven-spielberg-mark-rylance-bridge-of-spies/
http://www.dailyactor.com/wp-content/uploads/2015/09/Tom-Hardy-Legend.jpg
Tom Hardy on Playing Twins in 'Legend,' Being Seen as a Tough Guy, and Working with Philip Seymour Hoffman
Hardy speaks about why he challenged himself to play twins, what he thinks of his tough guy image, and working with the late Philip Seymour Hoffman, who directed him on stage.
http://www.dailyactor.com/actors-on-acting/tom-hardy-playing-twins-legend/
http://www.dailyactor.com/wp-content/uploads/2015/09/Emily-Blunt-Sicario.jpg
Emily Blunt on Action Movie Roles: "I think it's important to show different layers. Nobody is just tough, nobody is just vulnerable"
Emily Blunt touches upon why she has gotten into roles with an action bent and why she thinks there aren't more action movies with female leads
http://www.dailyactor.com/actors-on-acting/emily-blunt-sicario-acting-layers/
http://www.dailyactor.com/wp-content/uploads/2015/09/Jorja-Fox-CSI.jpg
Jorja Fox on Life After 'CSI': "I've always enjoyed not knowing exactly where the road leads"
"I think you kind of have to embrace the unknown if you're an actor." - Jorja Fox
http://www.dailyactor.com/actors-on-acting/jorja-fox-life-after-csi/
http://www.dailyactor.com/wp-content/uploads/2015/09/John-Turturro-Mia-Madre.jpg
John Turturro on the Life of an Actor: "It's a rough business. I wouldn't want my kids to do it"
"I am usually very well prepared. If you're a surgeon, you've got to know what you're going to take out today." - John Turturro
http://www.dailyactor.com/actors-on-acting/john-turturro-life-of-an-actor/