Four Actors Arrested in Massachusetts When Police Mistake Their Amateur Film Shoot Robbery as the Real Thing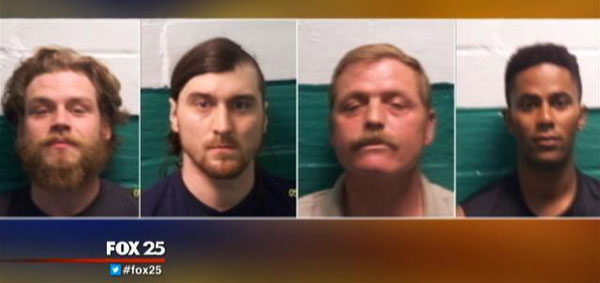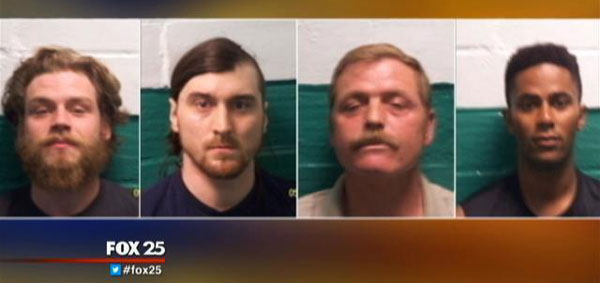 While I strongly recommend that you purchase Lance's new book Actors on Acting (he does run the show here after all), I'm going to offer you a free tip you won't find in his volume: Don't film realistic robbery scenes without making sure it won't be mistaken as the real thing. Sure, we've covered this before here at Daily Actor, but this time a robbery scene staged at a Massachusetts gas station for an amateur film shoot resulted in the arrest of four actors/filmmakers who didn't think their movie would be mistaken as the real thing.
According to the New York Daily News, the foursome had permission from the Salisbury, Massachusetts store owner to shoot their robbery scene in the gas station store, which included the actors brandishing a prop gun, a pocket knife, and a baseball bat as weapons. To their credit, the scene was so convincing that an onlooker called the cops. They promptly arrived and, seeing what they naturally assumed was an actual robbery in progress, went into action. As filmmaker Antoine Lee later recalled, "Just 15 cops come out of nowhere with assault rifles pointed at us. We really didn't have time to think, we just dropped to the ground and they arrested us right there."
After the arrest, the four filmmakers pleaded guilty to disorderly conduct and received eight hours of community service each. Lee later admitted, "Like, we're really sorry for what we did. Obviously, we should've done it a different way. Alerted the proper authorities."
Yeah, that or at least put up some kind of notification that the robbery was staged for filmmaking purposes!
http://www.dailyactor.com/wp-content/uploads/2016/02/alicia-Vikander-Ex-machina.jpg
Alicia Vikander on the Her First Trip to L.A. and the Acting Tip 'Ex-Machina' Director Alex Garland Gave Her
"You [get immersed in] a film and of course you think that that is it. And then you go away and you read a new script and you have a new crush" - Alicia Vikander
http://www.dailyactor.com/actors-on-acting/alicia-vikanderacting-tip-ex-machina-director-alex-garland-gave-her/
http://www.dailyactor.com/wp-content/uploads/2016/02/Channing-Tatum-Hail-Caesar.jpg
Channing Tatum Talks 'Hail, Caesar!': "I've been beating on the Coens' door for years, man"
"It's the most I've ever prepped for a six-minute section in a movie." - Channing Tatum
http://www.dailyactor.com/actors-on-acting/channing-tatum-hail-caesar-tap-dancing/
http://www.dailyactor.com/wp-content/uploads/2016/01/Isidora-Goreshter-Shameless-audition.jpg
Isidora Goreshter Remembers Her Audition for 'Shameless'
Goreshter recently recalled that her audition for the 'Shameless' was by far her worst ever.
http://www.dailyactor.com/actors-on-acting/isidora-goreshter-audition-for-shameless/
http://www.dailyactor.com/wp-content/uploads/2016/01/Sutton-Foster-Younger.jpg
Sutton Foster: "Sometimes I won't even find a character until I put on the costume"
"I never had grand aspirations to be a movie star, to be famous or to be on TV. The theater was what I wanted." - Sutton Foster
http://www.dailyactor.com/actors-on-acting/sutton-foster-younger-character-costume/
http://www.dailyactor.com/wp-content/uploads/2016/01/Paul-Giamatti-Billions.jpg
Paul Giamatti on Building His Career: "I was always willing to just go, 'OK, sure, I'll do that'"
"I've done everything an actor can do except porn and performing in an amusement park" - Paul Giamatti
http://www.dailyactor.com/actors-on-acting/paul-giamatti-billions-building-an-acting-career/