Extras in China's Hollywood Face Long Hours and Low Pay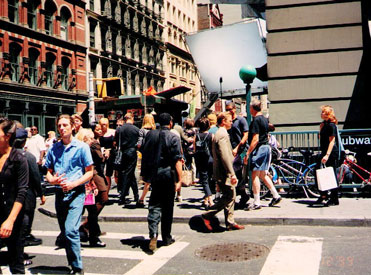 Think you have it tough trying to make it as an actor in America? 
There is a long tradition of young actors in this country who want to make it in the movies moving out to Hollywood in the hopes of becoming an overnight sensation.  Curiously, in the rapidly-growing Chinese film industry a similar tradition is becoming established, though as American photographer Darcy Holdoff reveals to CNN, extras in America might seem to have it easy in comparison.
For the extras who work at Zhejiang's Hengdian World Studios, one of the world's largest film studios, the work might be exciting and gratifying but even more low-paying than their American counterparts.  The standard wage — 5 yuan (80 cents) an hour — is not only one of the lowest in the country but it also isn't enough for most to live on, so many professional extras are fueled almost entirely by their passion for their work.  On set the extras aren't surprised by twelve-hour days — in fact, they often welcome the long hours to make up for the weeks they went without work (which is often). 
Still, many flock to Hengdian — AKA Chinawood — which has become a major tourist destination since the studio opened in 1996.  Holdoff points out that it has almost become a rite of passage for young Chinese students looking for a brief escape, pointing out, "I was reminded of my youth, and there was an air of carefree optimism that I haven't experienced anywhere else in China."
http://www.dailyactor.com/wp-content/uploads/2016/02/alicia-Vikander-Ex-machina.jpg
Alicia Vikander on the Her First Trip to L.A. and the Acting Tip 'Ex-Machina' Director Alex Garland Gave Her
"You [get immersed in] a film and of course you think that that is it. And then you go away and you read a new script and you have a new crush" - Alicia Vikander
http://www.dailyactor.com/actors-on-acting/alicia-vikanderacting-tip-ex-machina-director-alex-garland-gave-her/
http://www.dailyactor.com/wp-content/uploads/2016/02/Channing-Tatum-Hail-Caesar.jpg
Channing Tatum Talks 'Hail, Caesar!': "I've been beating on the Coens' door for years, man"
"It's the most I've ever prepped for a six-minute section in a movie." - Channing Tatum
http://www.dailyactor.com/actors-on-acting/channing-tatum-hail-caesar-tap-dancing/
http://www.dailyactor.com/wp-content/uploads/2016/01/Isidora-Goreshter-Shameless-audition.jpg
Isidora Goreshter Remembers Her Audition for 'Shameless'
Goreshter recently recalled that her audition for the 'Shameless' was by far her worst ever.
http://www.dailyactor.com/actors-on-acting/isidora-goreshter-audition-for-shameless/
http://www.dailyactor.com/wp-content/uploads/2016/01/Sutton-Foster-Younger.jpg
Sutton Foster: "Sometimes I won't even find a character until I put on the costume"
"I never had grand aspirations to be a movie star, to be famous or to be on TV. The theater was what I wanted." - Sutton Foster
http://www.dailyactor.com/actors-on-acting/sutton-foster-younger-character-costume/
http://www.dailyactor.com/wp-content/uploads/2016/01/Paul-Giamatti-Billions.jpg
Paul Giamatti on Building His Career: "I was always willing to just go, 'OK, sure, I'll do that'"
"I've done everything an actor can do except porn and performing in an amusement park" - Paul Giamatti
http://www.dailyactor.com/actors-on-acting/paul-giamatti-billions-building-an-acting-career/