Don Cheadle's Advice to Actors: "Be writers first"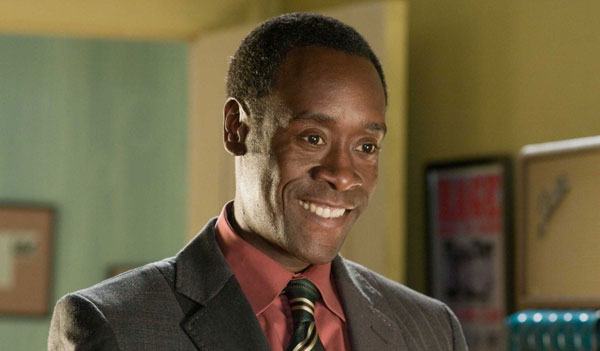 Actors like Don Cheadle are often the types of careers aspiring artists want to have. He has transitioned seamlessly from TV roles on shows like Picket Fences and House of Cards to films like Hotel Rwanda and Iron Man. He has dabbled a bit in theatre and taken on a producer role on films like Crash and Talk to Me.
For that up-and-coming young entertainer, the 49-year-old actor offered a bit of advice during NPR's Wisdom Watch segment recently.
Cheadle said, "You know, people come up to me and they ask me what can they do to get started all of the time, and I really feel like it's such a letdown because it's hard for me to give advice because I started, you know, almost 27, 28 years ago now. And the business has changed so much. You look at television nowadays and you see guest stars that have had film careers. They're like me, leads in television shows that, you know, are film actors. And those parts used to be able to go to people who were quote-unquote unknown. So I don't know anymore where you start. The great thing is now, however, people if – you know, they really get serious about their craft and work hard and bring their unique voices and interesting perspectives on stories, there's places where you can sell. So you don't have to knock on the door of a lot of these networks and try to get a gig. You can create your own opportunity and just put it out, you know, yourself and find people that will buy it. And then kind of build that infrastructure around you and help you to really realize your full vision."
The Oscar-nominated star dug and explained the area where he thinks actors should focus.
He shared, "I always encourage people to, if they want to really work on getting into this business, to be writers first. Don't worry about being an actor first, be a writer. Create something. Own it and then you, you know, the world is yours. You can really dictate the terms of how that will happen and that's only going to happen because unique, creative, interesting voices and stories are coming up, you know. Don't try to run down the same lane that people have done before, you know. You've – create your own lane and that's – that's the opportunity that was – that is there now that actually wasn't there when I was, you know, just coming out."
True to his word, Cheadle is currently directing and starring in Miles Ahead based on the life and music of Miles Davis. He also wrote the screenplay.
Watch: Keegan-Michael Key Explains Why "Improv actors are at war together"
Check out Key's points on why it's so important for improv actors to have each others' backs in the clip above.
http://www.dailyactor.com/actors-on-acting/keegan-michael-key-improv-actors-at-war-together/
http://www.dailyactor.com/wp-content/uploads/2016/07/norman-reedus-actor.jpg
Norman Reedus on Acting: "If it's something you really want, you have to roll with the rejection"
Norman Reedus is a fan-favorite star on The Walking Dead and was in the cult favorite film The Boondock Saints. However, in the dozen years between those two gigs Reedus had experienced ups and downs in his career and in many cases he was cast in very small roles in big movies or lead roles […]
http://www.dailyactor.com/actors-on-acting/norman-reedus-acting-rejection/
http://www.dailyactor.com/wp-content/uploads/2016/07/frank-grillo.jpg
Frank Grillo on Being Typecast: "I welcome it"
"I hear actors pooh-pooh the idea... people might see them as a certain thing. I welcome it" - Frank Grillo on Typecasting
http://www.dailyactor.com/actors-on-acting/frank-grillo-on-typecasting/
http://www.dailyactor.com/wp-content/uploads/2016/07/Michael-Shannon-Acting-for-free.jpg
Michael Shannon on Actors Working for Free: "I think as a group actors need to stop enabling this behavior"
"If somebody's got a good script and you want to put good actors in it then everybody should be taken care of." - Michael Shannon
http://www.dailyactor.com/actors-on-acting/michael-shannon-actors-working-for-free/
http://www.dailyactor.com/wp-content/uploads/2016/07/Javier-Munoz-Hamilton.jpg
Javier Muñoz on Taking the Lead in 'Hamilton': "This is just fun, and glorious"
Muñoz talks about his feelings on playing Alexander Hamilton full-time and his relationship with Lin-Manuel Miranda.
http://www.dailyactor.com/actors-on-acting/javier-munoz-new-hamilton/