Joseph Gordon-Levitt on Being Bruce Willis in 'Looper'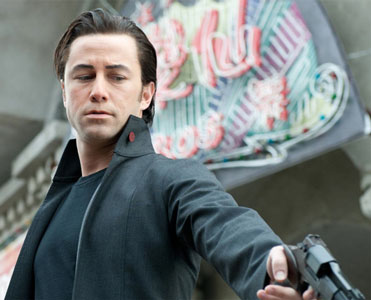 In order to play a younger version of Bruce Willis' character in Looper, Joseph Gordon-Levitt underwent three hours of makeup each day before filming.  While I personally don't think the changes are that drastic (I mean, it isn't like he has to look like the Elephant Man to play Bruce Willis), Gordon-Levitt talked to Moviefone about transforming into Willis and what audiences might discover when watching Looper.
In fact, since actors like to "disappear" into their roles, Gordon-Levitt admits that putting on all that makeup helped him separate himself from the character.  He says, "I love it. One of the main ways that I measure my work is if I can't tell that it's me. If it's convincingly somebody else, that means that the transformation of that character is thorough enough that I did a good job. In this movie I got to transform unlike I ever had before."
Obviously Gordon-Levitt had to do more than just put on makeup — he had to act like Willis too.  So, Gordon-Levitt took a crash course in all things Bruce Willis.  He explains, "I watched a lot of his movies. Even more so I focused on the audio. I was really into his voice. I would rip the audio off of his movies and put him onto the iPod so I could just listen. He also recorded himself doing some of my voiceover monologues and sent me that recording so I could hear how I could say it… The most productive thing was hanging out with him, having dinner, talking, just soaking it in."
Beyond his transformation, Gordon-Levitt thinks audiences will appreciate Looper for its "smart" take on the sci-fi concept of time travel.  He says, "I think being an audience member is creative –you have to apply your own creativity to the story, because a good movie doesn't just serve you the point, a good movie kind of provokes some questions and sets a tone. Then it's up to the audience to bring their own meeting and interpretation to it. Those are my favorite movies. When you're familiar with a movie and you're watching it a second time, for me, I think I am more able to bring my creativity to it, to use it however I need to be using it that day. If something is bothering me that day, I can bring that to the movie, and the movie will often kind of give me back things, depending on what I brought. "
http://www.dailyactor.com/wp-content/uploads/2016/08/imperium_daniele_radcliffe.jpg
Daniel Radcliffe on Playing a Neo-Nazi in 'Imperium': "It's still just horrible to say some of this stuff"
Radcliffe reveals how he played such a layered character and what it felt like to say his character's hate-filled dialogue.
http://www.dailyactor.com/film/daniel-radcliffe-playing-a-neo-nazi-imperium/
http://www.dailyactor.com/wp-content/uploads/2016/08/John-Cho-Star-Trek-Beyond.jpg
How John Cho Took A Stand for Diversity Early in His Career
"When one does speak one's mind, one might be surprised at how receptive people are." - Actor John Cho
http://www.dailyactor.com/film/john-cho-took-a-stand-for-diversity/
http://www.dailyactor.com/wp-content/uploads/2016/08/simon-helberg-florence-foster-jenkins.jpg
Simon Helberg on His 'Florence Foster Jenkins' Role: "I'm an actor and I want to stretch different muscles"
Helberg spoke about portraying his character in the film and whether or not he feels typecast by his Big Bang Theory role.
http://www.dailyactor.com/film/simon-helberg-florence-foster-jenkins-role/
http://www.dailyactor.com/wp-content/uploads/2016/08/Will-Chase-Something-Rotten.jpg
The Role That Got Away: Will Chase on Returning to 'Something Rotten!'
"I know that I am a poor man's fill-in-the-blank. And I know that there are poor man's Will Chases out there. That's just the nature of the business" - Will Chase
http://www.dailyactor.com/broadway-theater/will-chase-something-rotten-role-that-got-away/
http://www.dailyactor.com/wp-content/uploads/2016/08/Julia-Stiles-Jason-Bourne.jpg
Julia Stiles on the Jason Bourne Series and Growing as an Actress: "There's always room for improvement"
"I like a director that encourages me to be playful. I don't really like being restricted or controlled by a director." - Julia Stiles
http://www.dailyactor.com/film/julia-stiles-growing-as-an-actress/