Jon Hamm on 'Million Dollar Arm' and the End of 'Mad Men'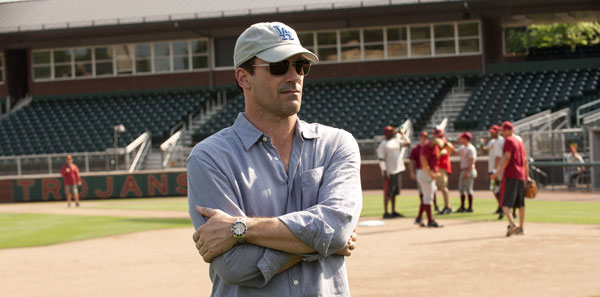 With Million Dollar Arm, Jon Hamm is starring as the lead in a big studio movie for the first time since Mad Men became one of the most popular shows on television. The family-friendly Disney movie is a major change from Mad Men's mature content. Hamm plays real-life sports agent J.B. Bernstein, who started a contest in India to find cricket players who could pitch in professional baseball in America. In an interview with The Huffington Post, Hamm spoke about taking on the role, meeting the person he played in the film, and his thoughts on the end of Mad Men.
Initially Hamm was surprised that he had never heard about the true story that Million Dollar Arm was based on. He reveals, "I was blown away that it had somehow escaped my radar. To get the opportunity to kind of tell this story is really cool."
Hamm didn't actually meet Bernstein until production was well underway. Nonetheless, he felt he was accurate in portraying Bernstein's character before he ever met him. He explains, "I think I had him pegged pretty good by the time we met. There's a lot of similarities between being an agent and being an actor. There's the false confidence you need to have all the time. The charisma, where you have to fake it until you make it. There's a lot of that in what I do for a living and certainly a lot of that in what J.B. does for a living. I realized that it was a really good fit [for me]."
Of course, while Million Dollar Arm is Hamm's highest-profile movie role in recent years, he is still best known for playing Don Draper on AMC's Mad Men, which is now wrapping up its run. While Hamm says he will miss working with the cast and crew, he admits that in some ways he's ready to see it end, saying, "It's been a big, big, big part of my life. I've got a lot of really good friends in the cast and crew. It's going to be tricky [to see it end]. I'm not going to say I wish it wouldn't end, because everything has to end, but it is what it is. We're going to have an emotional journey once we wrap it up. We'll walk away and lock the door."
http://www.dailyactor.com/wp-content/uploads/2016/04/Christine-Baranski-The-Good-Wife.jpg
Christine Baranski on the End of 'The Good Wife' and Going Back to Theatre
The final episode of The Good Wife airs on May 8, and it's been several weeks since series star Christine Baranski shot the final episode with her co-stars. She spoke to The Hollywood Reporter about the end of the series she has spent the last seven years working on and what she plans to do […]
http://www.dailyactor.com/tv/christine-baranski-the-good-wife-theatre/
http://www.dailyactor.com/wp-content/uploads/2016/04/jake-gyllenhaal-demolition.jpg
Jake Gyllenhaal on 'Demolition', Working with Chris Cooper and Directors Who Want Nothing to Do With Him
"I think storytelling is the most important part of movie-making over performance." - Jake Gyllenhaal
http://www.dailyactor.com/actors-on-acting/jake-gyllenhaal-demolition-chris-cooper/
http://www.dailyactor.com/wp-content/uploads/2016/04/don-cheadle-miles-davis.jpg
Don Cheadle: "Be scared. Be on the edge of your creativity"
"Be willing to fall flat on your face and be in an unknown place. If you're doing that, you're probably growing" - Don Cheadle
http://www.dailyactor.com/actors-on-acting/don-cheadle-scared-creativity/
http://www.dailyactor.com/wp-content/uploads/2016/04/jessie-eisenberg-louder-than-bombs.jpg
What is Jesse Eisenberg's "Most Fulfilling Acting Experience"?
"My absolute favorite thing to do is to write a play and then, after I finish, do the first reading of it with my friends around the table"- Jesse Eisenberg
http://www.dailyactor.com/actors-on-acting/jesse-eisenberg-most-fulfilling-acting-experience/
http://www.dailyactor.com/wp-content/uploads/2016/03/Lupita-Nyong'o-eclipsed.jpg
Lupita Nyong'o on Her Broadway Debut: "When we get up on that stage, you do not know what will happen"
"I think theater offers a chance to flex muscles that then only help to sustain cinematic work." - Lupita Nyong'o
http://www.dailyactor.com/actors-on-acting/lupita-nyongo-eclipsed-broadway/