Jesse Eisenberg Sues Lionsgate for Using His Image to Promote a Movie He Barely Appears In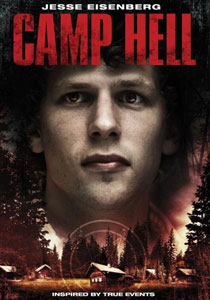 In 1997, Sylvester Stallone sued the producers of a movie titled The Good Life, which starred his brother, Frank Stallone. Sly appeared in the film in an cameo role for less than ten minutes (it was shot in a day) as a favor to Frank, but was surprised when the  promotional trailer for the movie essentially promoted The Good Life as a film starring Sylvester Stallone!  Lawsuits were filed back and forth, and to this day the film has never been released because of the legal wrangling.
So what's that have to do with The Social Network star Jesse Eisenberg?
Well, Eisenberg is involved in a similar experience of false promotion, too. IndieWire reports that Eisenberg is suing Lionsgate for listing his name and slapping his mug on the awful DVD cover of the low-budget horror film Camp Hell, which was shot in 2007 and released on DVD in August. 
While Eisenberg does appear in the film, his appearance lasts about five minutes. Eisenberg only received $3000 for the cameo, and while the lawsuit is for $3 million the lawyers claim the main purpose of the suit is "to warn his fans and the public that, contrary to [the film's advertising], Eisenberg is not the star of and does not appear in a prominent role in Camp Hell."  Similar to the Sylvester Stallone/The Good Life quagmire, Eisenberg is also heavily featured in the trailer, which you can view below.  The film actually stars Dana Delaney and Andrew McCarthy, so yeah, I get why Lionsgate decided to promote Eisenberg's appearance instead.  Still, this would be like the producers of Zombieland slapping Bill Murray's face on the DVD cover.
Obviously at the very least Lionsgate is going to have to do something about that cover.  Pretty stupid move on the studio's part, since I doubt Jesse Eisenberg's creepy cover art sold enough copies to cover what the settlement will likely be.  And like I pointed out, it's not like there isn't a precedent for this kind of thing… though judging by the awful reviews of Camp Hell, perhaps it should have received the same unreleased treatment that The Good Life received…
http://www.dailyactor.com/wp-content/uploads/2016/08/Will-Chase-Something-Rotten.jpg
The Role That Got Away: Will Chase on Returning to 'Something Rotten!'
"I know that I am a poor man's fill-in-the-blank. And I know that there are poor man's Will Chases out there. That's just the nature of the business" - Will Chase
http://www.dailyactor.com/actors-on-acting/will-chase-something-rotten-role-that-got-away/
http://www.dailyactor.com/wp-content/uploads/2016/08/Julia-Stiles-Jason-Bourne.jpg
Julia Stiles on the Jason Bourne Series and Growing as an Actress: "There's always room for improvement"
"I like a director that encourages me to be playful. I don't really like being restricted or controlled by a director." - Julia Stiles
http://www.dailyactor.com/actors-on-acting/julia-stiles-growing-as-an-actress/
http://www.dailyactor.com/wp-content/uploads/2016/08/Michael-Kenneth-Williams-The-Night-Of.jpg
Michael Kenneth Williams on How His Roles Impact Him: "That energy's gotta go somewhere"
Since his days of playing Omar on 'The Wire', Williams has learned how to separate himself from his characters.
http://www.dailyactor.com/actors-on-acting/michael-kenneth-williams-the-night-of/
http://www.dailyactor.com/wp-content/uploads/2016/08/margot-robbie-the-wolf-of-wall-street.jpg
Margot Robbie Believed 'The Wolf of Wall Street' Would Ruin Her Career
Many actors can point to a single role that was a career breakthrough -- but not all of them realize that it's a breakthrough as it's happening.
http://www.dailyactor.com/actors-on-acting/margot-robbie-the-wolf-of-wall-street-ruin-her-career/
http://www.dailyactor.com/wp-content/uploads/2016/08/Jonah-Hill-War-Dogs.jpg
Jonah Hill Talks 'War Dogs' and Getting into Character by Listening to Music
"When I started taking acting classes, it was the first time teachers were like, 'You're good and you should keep doing this.'" - Jonah Hill
http://www.dailyactor.com/actors-on-acting/jonah-hill-war-dogs/