Hypothermia Reduced Russell Crowe to Tears on the Set of 'Noah'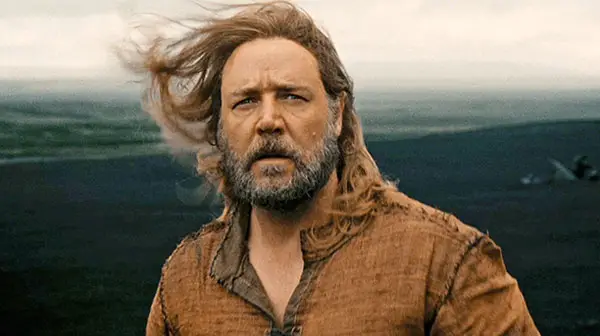 Sure, Darren Aronofsky's Noah uses more CGI H2O than old-fashioned "water pictures" used to, but that doesn't mean that star Russell Crowe didn't spend a lot of time during the shoot completely soaked. In fact, reportedly Crowe was soaked for so long during one day of shooting that he suffered hypothermia, causing the tough actor to… cry?
While shooting scenes off the coast of Iceland, Crowe discovered that he was unable to stop shivering after a particularly grueling day. He reveals, "We were doing a scene in Iceland where I had to fall into the sea… I'd been in and out of the sea, half-naked, filming all day… physically it was very demanding. There were these rain towers in the sky that could flood eight football fields in 30 seconds, and it was constant rain. We had 36 days of it."
Crowe admits he suffered a sort-of breakdown on the last day of shooting. He says, "It gets to the point where it's like Chinese water torture. You can't take it any more. I went into hypothermia. When we wrapped, I was lying on these stones and I couldn't get up. I couldn't stop shaking. I couldn't stop crying."
The Gladiator star also confesses that he feels that part of the breakdown had to do with his marriage recently ending, adding, "Seven or eight people put blankets on me and sat on me until I stopped. It was crazy – they were hugging me, trying to stop me shaking… This happened just a few weeks after Danielle [Spencer] had told me she didn't want to be married any more and insisted that we sit in front of our children and tell them. So it was pretty heavy…"
Of course, this is Russell Crowe we're talking about — the burly actor known for his manly-man roles — so this all lasted only a few moments. He recalls, "Well, suddenly I stopped crying and shaking. I pushed them all off and walked back to my trailer. They were like, 'Do you want anything?' and I was like, 'F**k off! It's done. Give me a glass of wine.'"
via WENN
http://www.dailyactor.com/wp-content/uploads/2016/08/Will-Chase-Something-Rotten.jpg
The Role That Got Away: Will Chase on Returning to 'Something Rotten!'
"I know that I am a poor man's fill-in-the-blank. And I know that there are poor man's Will Chases out there. That's just the nature of the business" - Will Chase
http://www.dailyactor.com/actors-on-acting/will-chase-something-rotten-role-that-got-away/
http://www.dailyactor.com/wp-content/uploads/2016/08/Julia-Stiles-Jason-Bourne.jpg
Julia Stiles on the Jason Bourne Series and Growing as an Actress: "There's always room for improvement"
"I like a director that encourages me to be playful. I don't really like being restricted or controlled by a director." - Julia Stiles
http://www.dailyactor.com/actors-on-acting/julia-stiles-growing-as-an-actress/
http://www.dailyactor.com/wp-content/uploads/2016/08/Michael-Kenneth-Williams-The-Night-Of.jpg
Michael Kenneth Williams on How His Roles Impact Him: "That energy's gotta go somewhere"
Since his days of playing Omar on 'The Wire', Williams has learned how to separate himself from his characters.
http://www.dailyactor.com/actors-on-acting/michael-kenneth-williams-the-night-of/
http://www.dailyactor.com/wp-content/uploads/2016/08/margot-robbie-the-wolf-of-wall-street.jpg
Margot Robbie Believed 'The Wolf of Wall Street' Would Ruin Her Career
Many actors can point to a single role that was a career breakthrough -- but not all of them realize that it's a breakthrough as it's happening.
http://www.dailyactor.com/actors-on-acting/margot-robbie-the-wolf-of-wall-street-ruin-her-career/
http://www.dailyactor.com/wp-content/uploads/2016/08/Jonah-Hill-War-Dogs.jpg
Jonah Hill Talks 'War Dogs' and Getting into Character by Listening to Music
"When I started taking acting classes, it was the first time teachers were like, 'You're good and you should keep doing this.'" - Jonah Hill
http://www.dailyactor.com/actors-on-acting/jonah-hill-war-dogs/