Harrison Ford on Playing the Real-Life Branch Rickey in Jackie Robinson Biopic '42'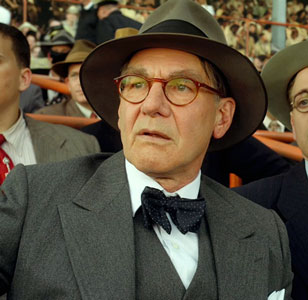 It's almost impossible to believe that Harrison Ford is now seventy and is now a regular in "older men" roles.  But the seemingly ageless Ford has put Indiana Jones behind him (well, most hope) in order to appear in more dramatic roles, such as the Jackie Robinson biopic 42. 
Ford stars as Branch Rickey, the general manager who initially signed Robinson to a minor league contract and later called him to the major leagues, making Robinson the first professional African-American baseball player in the modern era.  Ford speaks to USA Today about playing Rickey and the challenge of playing a historical figure.
To begin with, Ford understands the magnitude of the historical importance of the man he is portraying.  On Branch Rickey and the decision that changed professional sports in America forever, Ford notes, "The more research I did, the more impressed I was… This isn't a history lesson or a Sunday school sermon. What interested me was their relationship. They had these indomitable spirits, but very disparate personalities."
Because Ford usually stars as fictional characters, to play Rickey he approached the role differently than usual.  First, he conducted extensive research.  He explains, "Anything I could find, I used.  I discovered he did things too numerous to count." 
He also consulted with Ben Kingsley, who plays real-life figures more often (and won an Oscar for his acting in the title role of 1982's Gandhi).  As a result, Ford believes there are two ways to approach acting as a historical figure, pointing out, "One way is to confine yourself to represent a real person in a narrow vein. The other is to use it as an opportunity."  He admits that Kingsley directed him to the second way, adding, "He said it's an opportunity to use the (real) man as a mask that tells the truth. That's what I wanted to do."
http://www.dailyactor.com/wp-content/uploads/2016/04/jake-gyllenhaal-demolition.jpg
Jake Gyllenhaal on 'Demolition', Working with Chris Cooper and Directors Who Want Nothing to Do With Him
"I think storytelling is the most important part of movie-making over performance." - Jake Gyllenhaal
http://www.dailyactor.com/actors-on-acting/jake-gyllenhaal-demolition-chris-cooper/
http://www.dailyactor.com/wp-content/uploads/2016/04/don-cheadle-miles-davis.jpg
Don Cheadle: "Be scared. Be on the edge of your creativity"
"Be willing to fall flat on your face and be in an unknown place. If you're doing that, you're probably growing" - Don Cheadle
http://www.dailyactor.com/actors-on-acting/don-cheadle-scared-creativity/
http://www.dailyactor.com/wp-content/uploads/2016/04/jessie-eisenberg-louder-than-bombs.jpg
What is Jesse Eisenberg's "Most Fulfilling Acting Experience"?
"My absolute favorite thing to do is to write a play and then, after I finish, do the first reading of it with my friends around the table"- Jesse Eisenberg
http://www.dailyactor.com/actors-on-acting/jesse-eisenberg-most-fulfilling-acting-experience/
http://www.dailyactor.com/wp-content/uploads/2016/03/Lupita-Nyong'o-eclipsed.jpg
Lupita Nyong'o on Her Broadway Debut: "When we get up on that stage, you do not know what will happen"
"I think theater offers a chance to flex muscles that then only help to sustain cinematic work." - Lupita Nyong'o
http://www.dailyactor.com/actors-on-acting/lupita-nyongo-eclipsed-broadway/
http://www.dailyactor.com/wp-content/uploads/2016/03/jake-gyllenhaal-demolition.jpg
Jake Gyllenhaal on Missed Superhero Opportunities and Portraying "Antisocial" Characters
"I've always wanted to have the opportunity to play a number of different roles, and I knew it wasn't necessarily the role, but how you played them" - Jake Gyllenhaal
http://www.dailyactor.com/actors-on-acting/jake-gyllenhaal-antisocial-characters/