Harrison Ford on Playing the Real-Life Branch Rickey in Jackie Robinson Biopic '42'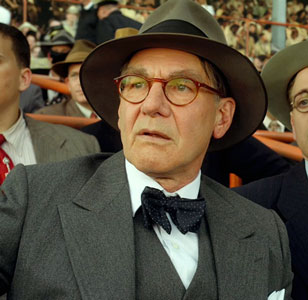 It's almost impossible to believe that Harrison Ford is now seventy and is now a regular in "older men" roles.  But the seemingly ageless Ford has put Indiana Jones behind him (well, most hope) in order to appear in more dramatic roles, such as the Jackie Robinson biopic 42. 
Ford stars as Branch Rickey, the general manager who initially signed Robinson to a minor league contract and later called him to the major leagues, making Robinson the first professional African-American baseball player in the modern era.  Ford speaks to USA Today about playing Rickey and the challenge of playing a historical figure.
To begin with, Ford understands the magnitude of the historical importance of the man he is portraying.  On Branch Rickey and the decision that changed professional sports in America forever, Ford notes, "The more research I did, the more impressed I was… This isn't a history lesson or a Sunday school sermon. What interested me was their relationship. They had these indomitable spirits, but very disparate personalities."
Because Ford usually stars as fictional characters, to play Rickey he approached the role differently than usual.  First, he conducted extensive research.  He explains, "Anything I could find, I used.  I discovered he did things too numerous to count." 
He also consulted with Ben Kingsley, who plays real-life figures more often (and won an Oscar for his acting in the title role of 1982's Gandhi).  As a result, Ford believes there are two ways to approach acting as a historical figure, pointing out, "One way is to confine yourself to represent a real person in a narrow vein. The other is to use it as an opportunity."  He admits that Kingsley directed him to the second way, adding, "He said it's an opportunity to use the (real) man as a mask that tells the truth. That's what I wanted to do."
http://www.dailyactor.com/wp-content/uploads/2016/06/jeff-bridges-hell-or-high-water.jpg
Jeff Bridges on Creating a Character, 'Hell or High Water' and Playing The Dude
"I use elements of myself—I see my parallels with a character—and find similar things in my own personality." - Jeff Bridges on Creating a Character
http://www.dailyactor.com/actors-on-acting/jeff-bridges-creating-a-character/
http://www.dailyactor.com/wp-content/uploads/2016/07/benjamin-bratt-actor.jpg
Benjamin Bratt: "For as limiting as the opportunities are for actors and actresses of color I've been very blessed"
"...it's dangerous to keep going down the same artistic path." - Benjamin Bratt
http://www.dailyactor.com/actors-on-acting/benjamin-bratt-ive-been-very-blessed/
http://www.dailyactor.com/wp-content/uploads/2016/07/watch-keegan-michael-key-explain.jpg
Watch: Keegan-Michael Key Explains Why "Improv actors are at war together"
Check out Key's points on why it's so important for improv actors to have each others' backs in the clip above.
http://www.dailyactor.com/actors-on-acting/keegan-michael-key-improv-actors-at-war-together/
http://www.dailyactor.com/wp-content/uploads/2016/07/norman-reedus-actor.jpg
Norman Reedus on Acting: "If it's something you really want, you have to roll with the rejection"
Norman Reedus is a fan-favorite star on The Walking Dead and was in the cult favorite film The Boondock Saints. However, in the dozen years between those two gigs Reedus had experienced ups and downs in his career and in many cases he was cast in very small roles in big movies or lead roles […]
http://www.dailyactor.com/actors-on-acting/norman-reedus-acting-rejection/
http://www.dailyactor.com/wp-content/uploads/2016/07/frank-grillo.jpg
Frank Grillo on Being Typecast: "I welcome it"
"I hear actors pooh-pooh the idea... people might see them as a certain thing. I welcome it" - Frank Grillo on Typecasting
http://www.dailyactor.com/actors-on-acting/frank-grillo-on-typecasting/